On Monday the Congress said that there was only one Bhagat Singh and he is irreplaceable, sidestepping party leader Shashi Tharoor's take on Kanhaiya.  
The leader of the opposition party Rajya Sabha Ghulam Nabi Azad said,"I don't know what Tharoor said but no one can replace Bhagat Singh, especially the boys of this generation. Only one Bhagat Singh can be born in this country, and he is irreplaceable."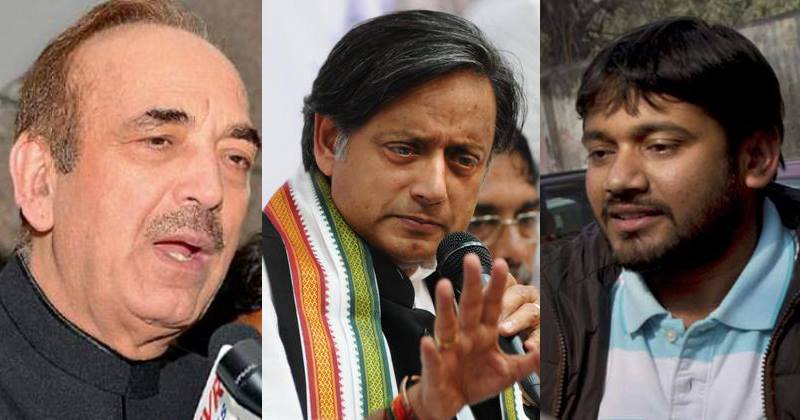 The Bharatiya Janata Party criticised the former union minister Shashi Tharoor. On Sunday Tharoor drew a parallel line between the great freedom fighter Bhagat Singh and JNU student leader Kanhaiya Kumar.
BJP spokesperson Shahnawaz Hussain said,"If Kanhaiya is Bhagat Singh, what are Sonia and Rahul Gandhi?", expressing his disappointment he added,"the way the Congress is making anti-national slogans, even Mahatma Gandhi and Jawaharlal Nehru will be upset".

The popular Bollywood actor and BJP MP Paresh Rawal also tweeted about the issue. He tweeted "At the cost of repeating myself, I must say @shashiTharoor IQ is lower than his shoe size!"
Tharoor explained following a furore over Paresh Rawal's comment and said that he meant that the two men had certain qualities in common, "a fact which the BJP will never understand".
Tharoor asserted that the circumstances were totally different for both the Bhagat Singh and Kanhaiya Kumar and the only parallel line between the two of them was that they were young men in their 20s with Marxist ideals and passionate commitment to their respective countries.

Shashi Tharoor stated,"When I said that Bhagat Singh was a Kanhaiya Kumar of his generation, I meant he was a youthful man in his 20s with Marxist concepts and beliefs, who had a great passion for his country. Kanhaiya has those alike qualities. That's all; there is nothing more to that."
Further, he added,"Obviously, their situations were different. Bhagat Singh was battling the colonial rule and foreign oppression and Kanhaiya is fighting for his beliefs in a rather different democracy."
The statement about  Bhagat Singh and Kanhaiya Kumar was made by Tharoor while giving a lecture on the topic 'JNU and Nationalism', outside the administrative hall of JNU.
Follow us on Facebook, Twitter and Instagram for more updates. Don't forget to like and share. Do tell us your views in the comment box below.
22 March, 2016
Avni S. Singh