On friday it was announced that the Elections to assemblies will be held in West Bengal, Tamil Nadu, Kerala, Assam and Puducherry in April-May. It will be the biggest battle since the 2014 Lok Sabha.
About 170 million voters will be eligible to vote in this staggered exercise. The exercise will see a six phase polling in West Bengal in seven days period, a two phase polling in Assam and a single day battle in Tamil Nadu, Kerala and Puducherry.
The voting in Assam  (126 seats) will be held on 4 April and 11 April and the West Bengal (294 seats) will vote on April 4, 11, 17, 21, 25, 30 and May 5.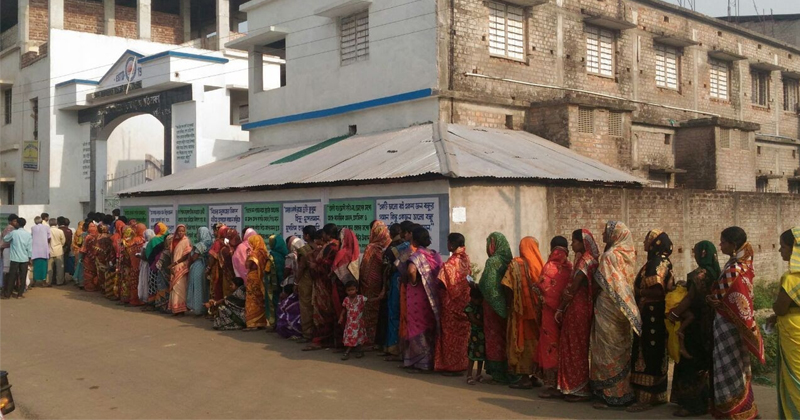 In Kerala (140 seats), Tamil Nadu (234 seats) and Puducherry (30 seats) will vote on May 16th. The counting of all the votes in all five states will be done on 19th may.
Soon after the announcement, the ruling party Trinamool Congress of West Bengal announced its candidates for all the 294 assembly seats and they have expressed  displeasure over the decision if holding the voting into six phases.
Congress, the Bharatiya Janata Party (BJP), the Left, Trinamool, AIADMK, DMK, Asom Gana Parishad, the AIUDF and the NR Congress that rules Puducherry are the key players in the five-state electoral battle.
Last year  in February and November BJP has suffered two major defeats in Delhi and Bihar, hence the outcome in all the five states is important for the party. However the party had formed governments of its own in Maharashtra, Haryana and Jharkhand and also shared the taste of power in only Muslim majority state Jammu and Kashmir for the first time.
The Congress is in the power in Kerala and Assam where the party is facing stiff challenges already. After the party lost badly in most of the states including Delhi, haryana and Maharashtra, Congress formed the  grand alliance with Nitish Kumar's Janata Dal-United and Lalu Prasad-led Rashtriya Janata Dal.
In the history of elections in India, for the first time the NOTA (None Of The Above) will be represented by a symbol like other party symbols. The photographs of all the party candidates will figure with their party symbols on the electronic voting machines (EVMs).
The April-May elections will be the biggest electoral contest since the Lok Sabha election that brought Narendra Modi-led BJP to power nationally.
The elaborated security arrangements in all the five states have been made to make these elections fair and free. During the election period, Central armed police forces and state armed police will be deployed in all the five states.
Follow us on Facebook, Twitter and Instagram for more updates. Don't forget to like and share. Do tell us your views in the comment box below.
14 April, 2016
Avni S. Singh