After Aam Aadmi Party (AAP) used an image of the Sikh shrine with the AAP party symbol, the broom, Delhi Chief Minister Arvind Kejriwal performed sewa as an apology at the Amritsar's Golden Temple on Monday.  
He said that while releasing the `Youth Manifesto` of the party, AAP committed some mistakes unintentionally and now to seek forgiveness he has come to offer voluntary services at Golden Temple as an apology.
Arvind Kejriwal scrubbed dishes and wiped floors at the Golden Temple. His sewa or services were scheduled before daybreak to avoid the crowd and the media but that strategy did not go well as it failed to beat either.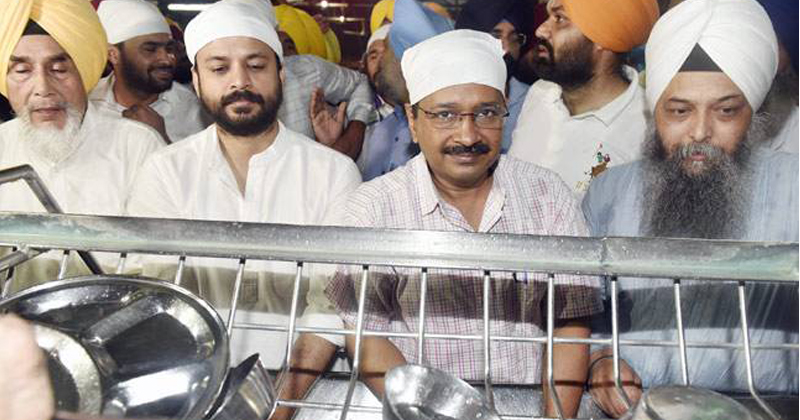 The Delhi Chief minister was at the temple for about 45 minutes. He was accompanied by senior leaders of AAP including lawyer H.S.Phoolka, Ashish Khetan, AAP MPs Bhagwant Mann, Sadhu Singh, actor Gul Panag and Gurpreet Ghuggi and several others.
Earlier this month, Ashish Khetan was booked by the Punjab Police on the charge of hurting religious views of the Sikhs by associating the manifesto with Guru Granth Sahib. Kejriwal, Khetan and other leaders apologised but the apologies were rejected by the Akali Dal, opposition Congress and the SGPC.
Chief Minister Parkash Singh Badal and his son Sukhbir Singh Badal accused AAP leaders of  "hurting the religious sentiments of the Sikhs". The Punjab CM said that it was "blasphemy".
Follow us on Facebook, Twitter and Instagram for more updates. Don't forget to like and share. Do tell us your views in the comment box below.
18 July 2016
Avni S. Singh