Arvind Kejriwal is a master of bizarre statements and he knows how to make it to the news for sure. On Thursday Delhi CM said that the budget of AAP government's advertising is less than the money spent on Prime Minister Narendra Modi's clothes.
He said that over the last two years, Prime Minister Modi has never repeated his clothes once worn and every single outfit of PM costs 2 Lakh.
He added that AAP has been falsely accused of advertising worth Rs 526 crore instead the party has released advertising worth Rs 76 crore only whereas Modi spent more money on his clothes.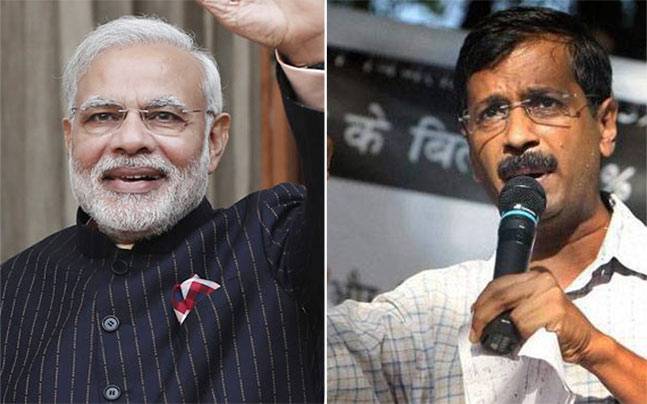 He said that one attire of PM is worth Rs two lakh and he changes five times a day which makes the total expenditure of the day 10 lakh rupees. He  further said that PM never repeats his clothes, does not wash or reuse them even.

Kejriwal said that the biggest proof can be seen in google as you never see him wearing the same attire in the images of google image search. The expense of a day is 10 lakh and he has been in power for over 700 days which makes this budget Rs 70 crore. He added that PM spent Five crores more on his other clothes.
Not only this Arvind even accused media of being either "scared or ignorant" for broadcasting the five-hour programme from India Gate of the function that was organised on completion of Modi's two years as PM.
He said,"I think media is either scared or ignorant. Not all, most of it. On completion of Modi's two years in power, a five-hour programme from India Gate was telecast non-stop by all media channels. Has this ever happened? So if they are doing that, then they should show the good work we are doing too. They are not doing that."
He said that false and negative things are being picked repeatedly to defame him and his Party and it is done so often that many times people actually believe these things. He added that media is running a "negative and mischievous" campaign against his party but despite that App is performing well as people are smart and they can make out the difference between wrong and right.
Follow us on Facebook, Twitter and Instagram for more updates. Don't forget to like and share. Do tell us your views in the comment box below.
30 June 2016
Avni S. Singh