Pierce Brosnan, the Hollywood legend stated on Thursday that Pan Bahar has violated the contract by depicting his image on the other products of the company's product line. Brosnan also said that "Pan Bahar" told him "the product to be endorsed is a mouth freshener and tooth whitener."
Pierce Brosnan's Pan Bahar ad has been banned from national and satellite television by the Central Board of Film Certification Chief, Pahlaj Nihalani.
The 007 fame actor said that he was in a shock and felt saddened after learning that, the product he was endorsing may cause cancer. He also stated that the pictures used in the other Pan Bahar product's promotion are unauthorised, as he never gave the permission to use his pictures in other products and this was a clear case contract violation.
Pierce Brosnan also mentioned that he lost his first wife and daughter, as they were diagnosed with cancer and their is no way in the world that he can knowingly endorse product which can cause the same problem to other people. For the record, he is a regular participant in charity events related to Cancer patients.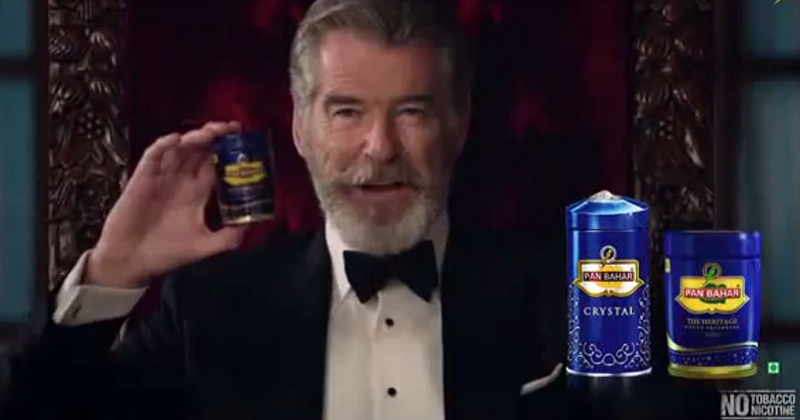 Brosnan has urged Pan Bahar to remove his image from product lineup and advertisement hoardings. He also apologised to the Indian citizens and said that he did not know about the items he was endorsing would have a negative impact on the Indians.
Here are some of the tweets that showed dejection of the Indian Population:
"I believe you hold the famous 'License To Kill' in your possession, Mr. Bond?"

*takes out Pan Bahar from his pocket*

*130,000 people die*

— Akshar (@AksharPathak) October 7, 2016
https://twitter.com/MJSpice_desu/status/788984380828123136
@PierceBrosnan I am a bit surprised that u modelled for #carcinogen #paanbahar.We are pressurising #Indiangovt to ban it.

— Bijaya Jena (@jena_bijaya) October 20, 2016
Follow us on Facebook, Twitter and Instagram for more updates. Don't forget to like and share. Do tell us your views in the comment box below.
21 October 2016
Rohan Jaitly