Rahul Gandhi, Vice-President of Congress party, is a huge entertainer in the Political business and I hardly think there's someone out there who differs with me. The man has grown into a politician and now, finally, there's some sense in what he says on various rallies.
Much like his rally-game, even his Twitter presence is growing and that too in an entertaining direction. Recently he posted about his dog Pidhi Gandhi and god did the tweet instantly started a nationwide conversation about Pidhi Gandhi's tricks. What a time to be alive!
Ppl been asking who tweets for this guy..I'm coming clean..it's me..Pidi..I'm way than him. Look what I can do with a tweet..oops..treat! https://t.co/fkQwye94a5
Now, someone has put out few images from Rahul Gandhi's Aikido classes, where he can be seen performing various Aikido positions with Sensei Paritos Kar. Gandhi recently mentioned his love for the sport to Olympian Vijender Singh at a business event.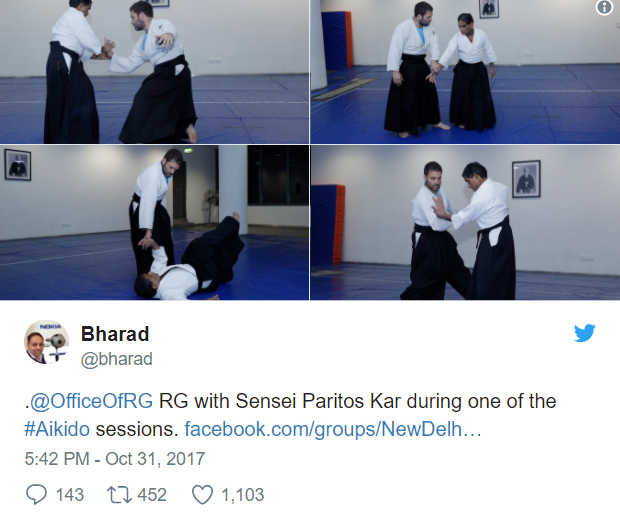 In case you don't know about Aikido, much like 1.5 billion population of India, then let us explain it to you.
Aikido is a modern Japanese martial art developed by Morihei Ueshiba as a synthesis of his martial studies. Aikido is often translated as "the way of unifying (with) life energy" or as "the way of harmonious spirit".
Gandhi even mentioned that he has a black belt in the sport, which can also be seen in the photos. The photos have been shared by Twitter user Bharad who told Hindustan Times, "He is one of those… well versed in aikido… It is saddening people call it a photo-op … people must see him to believe him".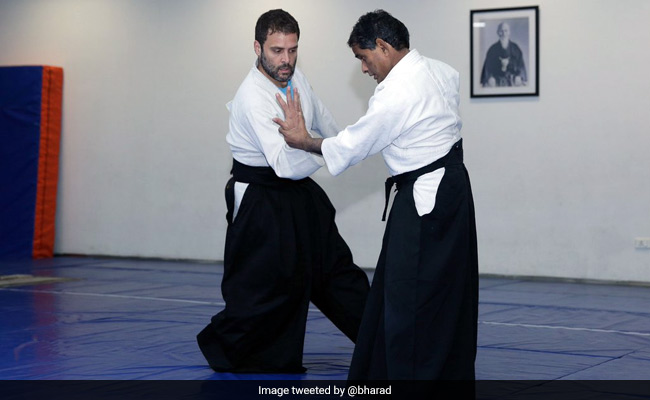 Now, much like everything else that Gandhi says or does, Twitterati has some reactions on these photos too, and they're quite hilarious, to be honest.
We can just now wait for something more comical and entertaining to come out of Rahul Gandhi's Twitter.
Jyotsna Amla