Pakistani troops used mortar shellings to attack civilian areas along the Line Of Control on Tuesday. This has unleashed a bloodbath along the LOC as Indian Army and BSF retaliated to answer the attack.
The attack took place at civilian areas from the Samba sector to Poonch sector of Jammu and Kashmir. Eight civilians, including two minors, were killed in the attack and 24 have been reported injured. Six of the eight deceased were from the Arnia sector of Samba district and the other two were from Tarkunde area of Rajouri district.The injured were taken to the Government Medical College Hospital in Jammu.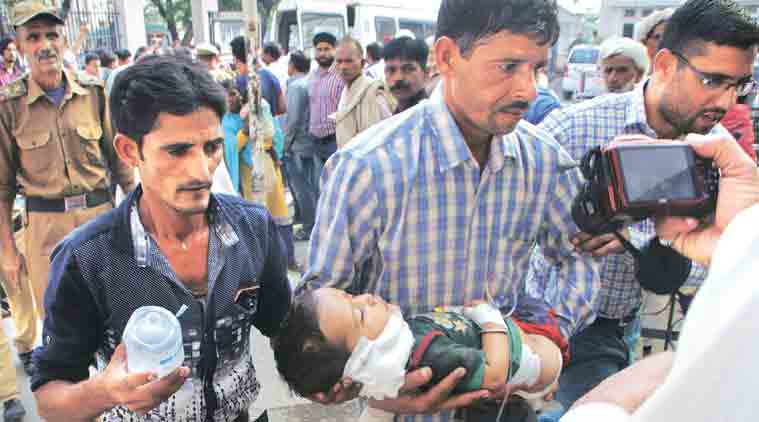 On Monday, Indian Army tackled another such attack in which an army Jawan and a woman were killed while another five were injured, including two soldiers.
The havoc has created a stampede in at least 20 villages near the International Border (IB) as many families have shifted to their relatives' homes while others have taken shelter in camps set up by the State Government and Indian Army. The Jammu & Kashmir Government has ordered the schools in the state to remain closed until the next update.
Border Security Force (BSF) launched a calibrated retaliation and destroyed around 14 Pakistani posts along the IB, opposite to the Ramgarh and Arnia sectors of the Jammu.
India shares the 230 km IB and 740 km of LoC with Pakistan in Jammu and Kashmir. The border, guarded by the paramilitary BSF runs through Jammu, Kathua and Samba districts, while the LoC, which is not an internationally-accepted frontier, covers the other regions of the state.
India has repeatedly accused Pakistan of violating the 2003 ceasefire treaty which was signed by the two nations to maintain peace at the International Border and Line Of Control. However, Pakistan has never accepted these allegations and has further accused India of provoking all the border tensions.
Follow us on Facebook, Twitter and Instagram for more updates. Don't forget to like and share. Do tell us your views in the comment box below.
02 November 2016
Rohan Jaitly