Pakistan Army has mutilated the bodies of two Indian jawans after initiating a ceasefire violation in Poonch district of Jammu and Kashmir on Monday. The ceasefire violation started at around 8:30 am in the morning and personnel of Pakistan's 647 Mujahid Battalion, deployed on the forward defense line along the LOC fired four rounds of rocket-propelled grenades and opted for three rounds of automatic weapon fire on Kripan-1, which is guarded by BSF's 200 Battalion.
Indian security personnel at Kripan-1 retaliated with automatic weaponry and the gunfire lasted till 9 am.
Junior commissioned officer (JCO), Naib subedar Paramjit Singh and BSF head constable Prem Sagar were reported dead and two others were reported injured.
Now the reports have come stating that the bodies of these to India martyrs were mutilated by Pakistani soldiers which have triggered rage among Indians and the Indian Army.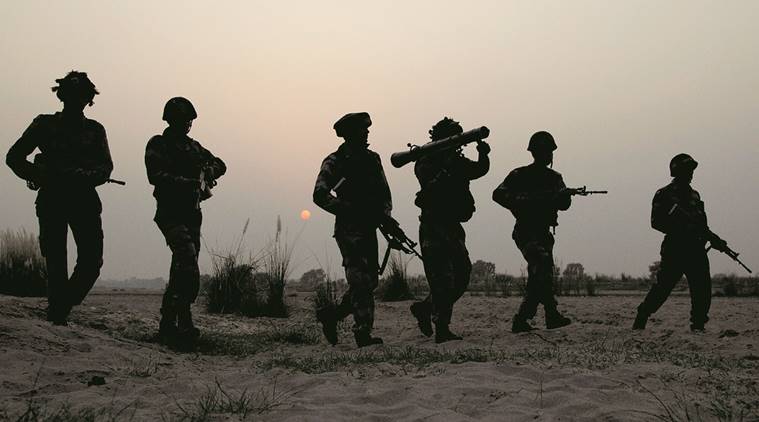 Both of them were part of a patrolling party and after the which was active along the Line of Control (LoC) in Krishna Ghati of Poonch district. Condemning Pakistan army's actions, the Indian Army have promised swift retaliation.
Incident Krishna Ghati Sector . Statement attached. pic.twitter.com/yyNFqCEHDm

— NorthernComd.IA (@NorthernComd_IA) May 1, 2017
This development comes during the tension between India and Pakistan over Kulbhushan Jadhav's death sentence given by a Pakistani army court, convicting him of espionage. Moreover, last year in September, a similar ceasefire violation took place in Uri after which Indian troops crossed the LoC and targeted launch pads used by terrorists in Pakistan-occupied Kashmir.
Despite the strict action, although a solitary one, Pakistani troops had breached the truce 7 times last month, along the Line of Control (LoC) in Poonch and Rajouri district. In 2016, instances of ceasefire violation initiated by Pakistan, along the LoC were recorded 228 times while violations along the international border (IB) were recorded 221 times.
Author's take
This clearly shows that Pakistan have guttered the 2003 ceasefire agreement and despite the mounting pressure from International forces, they have opted to continue these unsoldierly acts.
While this was the case of unprovoked firing by Pakistani troopers, in cases of infiltration bid from the Pakistani border, the neighboring nation has always denied the presence of militant groups across the border, the reality of which was unveiled after the Surgical strike.
Moreover, if Pakistani authorities are unaware of terrorist presence inside their border, then they are definitely the most endangered country in the World and there is no harm in accepting their incompetence to prevent the same.
As for the Indian Authorities, this calls for strict measures, just like the Surgical strikes, and while they most certainly won't opt for mutilation, they should come up with an apt response and it has to be violent this time.
We condemn every attack and if something like this happens, we condemn it even more. This has to change and Indian Army as well Government need to take a stand here. Till what time we will be the clouds that roar and don't pour?