Gurugram's traffic nightmare is creating chaos on NH8 and while people are trying hard to get rid of it, Nitin Gadkari, Road Transport and highways minister have stepped in to ease the crisis. Nitin has asked the National Highways Authority of India (NHAI) to step in to help and reduce the water logging and huge traffic problem that has brought Gurgaon to a standstill. He asked NHAI to ensure the safety of people and proper vehicular traffic movement on NH8.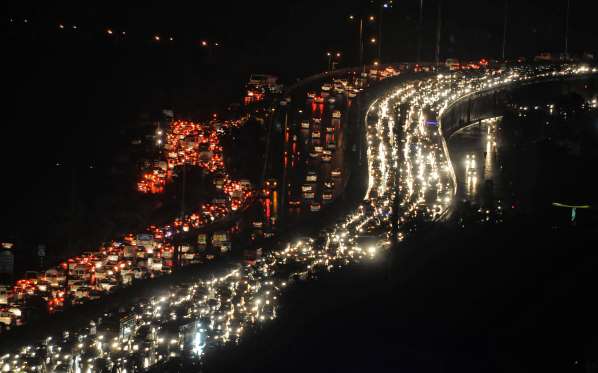 The Chairman of NHAI, Raghav Chandra has been asked to report on the progress of the matter and the efforts of the team. To solve the enormous traffic situation at Hero Honda Chowk, the  authority's team will coordinate with state officials. The officials of NHAI are at the Hero Honda Chowk and they have affirmed that the movement of the traffic will improve in some time as well as the water levels will also recede.
The  Chief General Manager of NHAI BS Singla has said that six pumps of the NHAI are working on the water logging problem and the water levels have come down already. He added that the situation will be better in coming half an hour.
Singla is at the Hero Honda Chowk and according to his statement the cars have already started moving.
The chief secretary of Haryana, DS Dhesi said that the traffic is moving slowly and the Hero Honda Chowk is being cleared. The  crisis management committee had a meeting regarding the matter and the truck movement has been regulated.
This massive roadblock and water lodging is caused due to heavy rain in the city. The commuters and city dwellers are stuck in traffic for hours now. Due to the traffic snarls that started Yesterday,  people are being stuck for over five to seven hours.
Follow us on Facebook, Twitter and Instagram for more updates. Don't forget to like and share. Do tell us your views in the comment box below.
29 July, 2016
Avni S. Singh