Love Kashi, but always crib about long train times? Can't wait to throw yourself amid the splendor of Kashi Vishwanath or Sankat Mochan but find yourself agonizing about run-of-the-mill train journeys that take you to Varanasi from Delhi but after facing some rigor?
Here's what might delight you and particularly
In what's a fantastic new way to have begun the new year in style and with umpteenth positivity, the railway infrastructure of the country noted a new high for India. Now, you can travel to arguably, among the most loved cities in India from Delhi in express pace.
Don't be confused. The choppers aren't there yet on the route. The tracer bullet speed is, well, still, at some yards from us.
Civil mobility just got the push it needed in order to make a frequent route appear non-lackluster and more fun, it could be said.
What's happened is that the fastest train on the route to reach Varanasi from Delhi has arrived and is here to completely transform the journey and experience for the people.
Railway Minister, Piyush Goyal, announced on Wednesday that the run-time between Varanasi and Delhi would be around, "one-and-a-half times faster than the fastest train that operates on this route."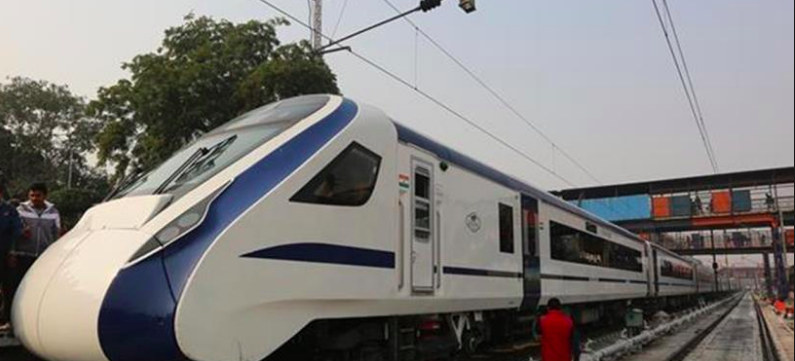 To elaborate more on this fine new achievement, it's also been shared that the train journey- one that shall be around not more than eight hours- is actually 45 percent faster than the current trains on the same route.
To note further, this world-class gem of railway engineering and rail infrastructure will be fully equipped with the necessary paraphernalia one expects from a modern symbol of urban mobility. The Train 18- remember the name- will be WIFI-enabled, CCTV-Cameras, and there's one thing more, which is arguably, the most interesting facet to note, apart from the journey's duration.
The train will not have any locomotive or engine, for that matter.
The Train 18, which will be flagged off by, well, no prizes for guessing, India's iconic Prime Minister Narendra Modi, who else, is a trainset. And in case, some of us are curious to know what trainset is, then Wikipedia defines it as an arrangement where the locomotive and the carriages are coupled together, instead of functioning in isolation, to form a unified set of equipment.
The Railway Minister also carried out an inspection of the train on Wednesday, at the New Delhi Railway station in the country's capital and shared that the train will be flagged off right ahead of the Kumbh Mela, easily the most keenly-awaited event for 2019.
So far, while a fixed date for the commencement of the said train hasn't been shared, Mr. Goyal said that it will commence its journey 'soon.'
That said, we will try to cover the news with more exciting updates, as and when, they are available.