A Madhya Pradesh-bound train for migrants is all set to leave from the national capital later in the day on May 7, 2020. And truth be told, in the context of what has, of late, been cited as a national crisis for the poor and those hailing from the weaker sections of the society, this is nothing but a massive respite of sorts.
Isn't it? What do you think?
Just who cares for the plight of the marginalized? Not just a question but an actual concern that deserves greater deliberation than usually afforded.
In a country where the marginalised are already oppressed by an utter lack of financial support and independence, where hundreds of thousands flee to bigger cities in search of that thing called 'job security' the last thing that one wanted for the already downtrodden was for them to be cut astray from their own families during this time of national crisis.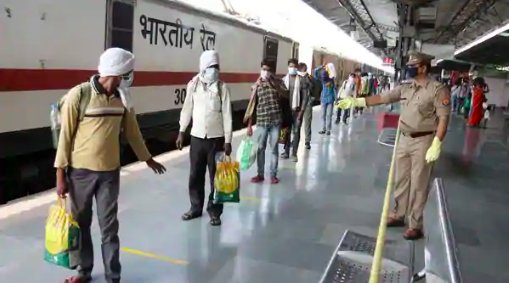 Wherever you look, there's disarray. Wherever one casts his eye, there's a widespread concern. But if you really wanted to understand the real extent of damage wrecked by the Coronavirus lockdown, then truth be told, none of us constantly Tweeting, mocha-sipping, music-listening, Facebook-hanging armchair opinion-makers can ever understand it from the four-walled comfort of the place called home.
If you are to truly understand the depth of their suffering, then note the tired legs and exhausted limbs that have been, as a matter of fact, walking helplessly over the course of the last several days, searching for that path that takes them home.
These tired bodies and restless souls are those who have been denied a basic basic right of life: the right to be at home with their families where not just a particular city or state but an entire country has been submitted to a state of a national lockdown.
Then just come to imagine their anxieties, their troubles and the very burden they've been ceaselessly toiling with, that thing called life and livelihood!
So in that sense, it is but a massive sign of relief to have the country and its government finally operate such a thing – as a train for the migrants.
About 1,200 migrant workers from Madhya Pradesh staying in shelter homes in Delhi are set to leave for their native state today, the official said.
The train will leave from Delhi to Madhya Pradesh's Chhatarpur at 8 pm on Thursday, said the official.
The Delhi government is also in talks with Bihar and Uttar Pradesh governments to run special trains for stranded workers from both these states who wish to return.