Prime Minister Narendra Modi laid a wreath at the Space Shuttle Columbia Memorial at Arlington National Cemetery. Modi paid homage to Indian-American astronaut, late Kalpana Chawla in the presence of astronaut Kalpana Chawla and Sunita Williams' family.
Modi also interacted with the husband and family members of Chawla, Indian-American astronaut Sunita Williams and her father and senior officials from NASA at the Space Shuttle Columbia Memorial. Modi was accompanied by US Defense Secretary Ashton Carter. Foreign Secretary S Jaishankar, Indian Ambassador to the US Arun K Singh, Assistant Secretary of State for South and Central Asia, Nisha Desai Biswal and US Ambassador to India Richard Verma were also present at the Memorial.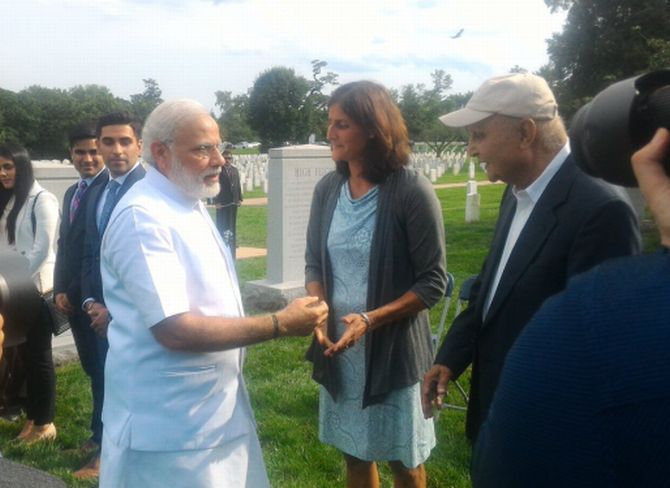 Sunita Williams expressed her gratitude to Prime Minister Modi and said that she feels very honored that Modi took time to come and acknowledge the shuttle catastrophe.
Modi invited Sunita's father to visit India and also spoke to him in Gujarati.
Sunita's father said ,"With health permitting, I definitely look forward to visiting India."
Jean-Pierre Harrison, Kalpana Chawla's husband presented a set of books on the late astronaut to the Prime Minister, including a biography written by him.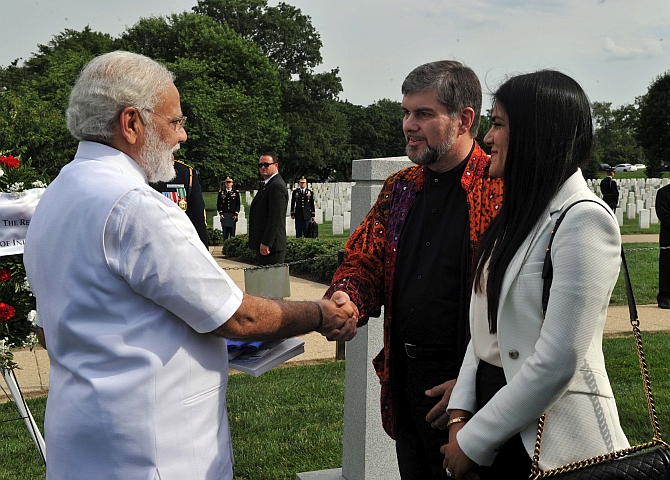 The Tomb of the Unknowns is dedicated to American service members who have lost their lives without their remains being identified.
Follow us on Facebook, Twitter and Instagram for more updates. Don't forget to like and share. Do tell us your views in the comment box below.
7 June 2016
Avni S.Singh