Evin Lewis lives by a simple rule of life.
See the ball- hit the ball.
This is exactly what he was expected to do for the Mumbai Indians. And this is exactly what he would've loved to do.
Except, there was a problem; a strangely stupid one.
In the 10 games that his Mumbai Indians have played so far, Evin Lewis has played 0 games.
That's not a lot, right? Okay, let's dump sarcasm. For the only good, it ever does is in getting a like on Facebook, not that it would help Lewis in getting a game before it gets tough for MI.
Here's a truth. Evin Lewis not getting a game doesn't mean that the traffic in Trinidad and Tobago has stopped. This also doesn't mean that the Mumbai's Nariman Point, Jaipur's Statue Circle, Delhi's Connaught Place, Chennai's Marina Beach or Bangalore's MG road are deserted as if someone in the cancelled a national holiday.
This, however, means one thing. It points to a question that regardless of whether you are a fan or a pundit, cannot ignore.
Are Mumbai Indians a clumsy unit when it comes to thinking about the team composition?
Well, it does appear so.
A team that's somewhat habitual of moving at its own sweet pace, despite this being a tournament where every run scored or saved, wicket taken or defended is vital, aren't the Indians a bit fortunate being second on the at present?
So far, they've lost 4 games and won 6.
That ties them with Delhi Capitals, who, much to the surprise of many, have played collectively as one unit.
But have the Mumbai Indians done the same?
Of the games they won versus- Chennai, Delhi, Punjab, Hyderabad, Bangaluru, the latter who they happened to have defeated twice- it's rather stunning that both their openers failed to deliver in each of their games.
Did you note?
Not once has de Kock or Rohit scored a fifty in any of the games where MI plonked their opponents.
But to the curious fan of big hitting in the IPL, someone who expects a West Indian to do what a West Indian does in the IPL- shower runs- it upsets to see an Evin Lewis sitting in the dugout.
While it makes little sense to wonder whether the games Mumbai Indians lost could've been saved had Lewis been drafted in, but why fly down a player only to see him chit-chat with teammates in a dugout that's neither air-conditioned nor being salubriously sprinkled with artificial water given the soaring heat in India can do little to help?
Oh yeah, there's a huge pile of money to be collected, right? Makes sense, then. But here's a thought.
Is Evin Lewis not been played since he didn't anyways play a lot many games of late?
As a matter of fact, the Trini didn't wield a bat for a while, sitting out of the ODI series (contested earlier in 2019) in the Caribbean (versus England) due to an injury.
It did leave a lot of scope for all the runs he could've gathered in the leagues that followed, such as the ongoing IPL 2019.
But more spectacularly, where the 2018 numbers stand, then they point to Evin Lewis ending the year on a high. Did you see his 36-ball-89 against the 'Tigers', a knock that featured 6 fours and 8 sixes? This would fetch the Windies a 2-1 series win versus hosts Bangladesh, interestingly, in T20s, a format he still awaits his chance at here in India.
In mauling the Tigers and in the process, reminding their home fans about the meaning of 'irony', it did appear that Evin Lewis was hitting a ping-pong ball and not an actual white ball.
Some batsmen, after all, excel in the art of making it look easy- don't they?
This is Evin Lewis, by the way, not the game's most technically sound bat but neither a lame pushover in the shortest format, wherein he's already scored 2 tons.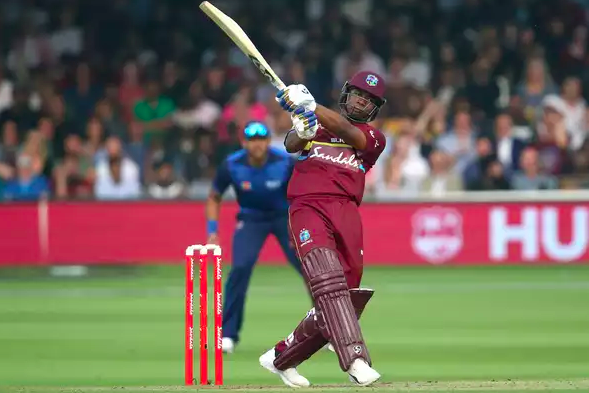 Although, to be fair to Lewis, his overall form in 2018 did indicate weaknesses even as he batted with usual flair and firepower minus solid consistency, which, he's still to develop, having started out in 2016.
That he collected only 274 from 10 games (only 2 fifties) indicated a patchy run.
All the more reason why, upon returning to the game- fit and ready to plunder- it makes for an inexplicably strange sight to see the flashy batsman sitting for over a month in the Mumbai Indians dugout.
Surely, he's not there to taste the vada-paav, which seeing his built and cricketing priorities, he may not be so keen on, with all due respect.
But above anything, a question remains.
Have the Mumbai Indians made a fair call in asking Lewis to sit out in place of a Suryakumar Yadav as on most other occasions, a de Kock and Rohit open? The captain, a great of the modern game, has scores of 5, 30, and 28 against his name.
Suryakumar, on the other hand, with scores of 34, 26, 29, 16, hasn't touched 35, let alone notching up a fifty in the last 6 innings.
It doesn't mean the end of the world for MI, who, at second are surely going to make it to the playoffs, alongside Chennai with Hyderabad and Delhi seeming in it (although they'd know well that KKR and Punjab would want to be in there too).
And what did Lewis do vis-a-vis his Mumbai Indians' contemporaries?
Well, as of 2018, he helped himself to nearly 400 IPL runs, playing as the opener. Not too bad for a batsman who hadn't played in the sub-continent before, right?
So the point dear Mumbai Indians is pretty simple. Evin Lewis is here amid you. And he hasn't really sucked in 2018's IPL. As on date, we don't know how we'll perform for the simple reason that he's not been given a chance and hits scored in the nets and the most beautifully creamed strikes during practice sessions or friendly warm-ups among oneself don't really count.