The times.. they are a changing. No not because one great legend Bob Dylan said so. It's actually evident. And let's not even get to philosophy that change is the only constant. Well, it is. And it is out there to see. And what can be a better instance to spot this change, this really audacious turn of narrative than looking at the sphere of urban mobility.
As a small example – decades back there was no Uber no Ola. Today, which urban city can you imagine functioning without one?
The same way, can you treat the advancement in electric cars and usage of the same as a "narrative for tomorrow" or "for future?"
Well, look nowhere else but the financial capital of India.
Because if there we may not have had this massive change, the conventions would never have made a place for radical, "efficient" solutions.
Different units of parts of the famous Mumbai Police are now using the electric scooters to patrol and monitor different parts of the city.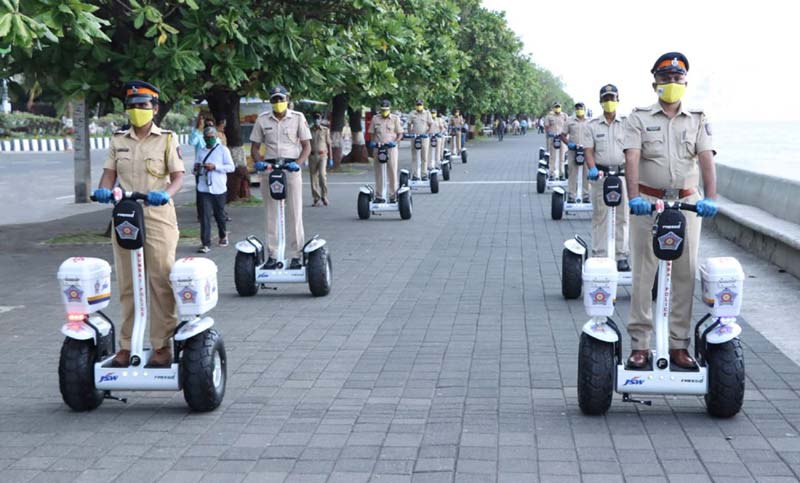 In what can be a taxing and must surely be a cumbersome task- to play the curious vigilante- how brilliant must one ask is this new feeling to ride an electric scooter.
And it's actually an honest question.
To see the rough and tough street smart , duty-bound Mumbai cops on jeeps and bikes and often at odd hours is a normal thing.
Call it routine.
But illustrating that things have changed, we now have the same police force working away cautiously and steadily on the Sega Electric scooters.
How refreshing a sight, in some ways, is that?
A news report published in the Times of India shared the following:
While fifty of these two-wheeled, self-balancing 'personal transporters' will be deployed in south Mumbai, they will be also introduced for cops in suburban Bandra, Juhu and Versova areas, he said.
That being said, there emerges an interesting and very relevant question. How long until we see major chunks of the ever-active Mumbai Police on their efficient electric machines?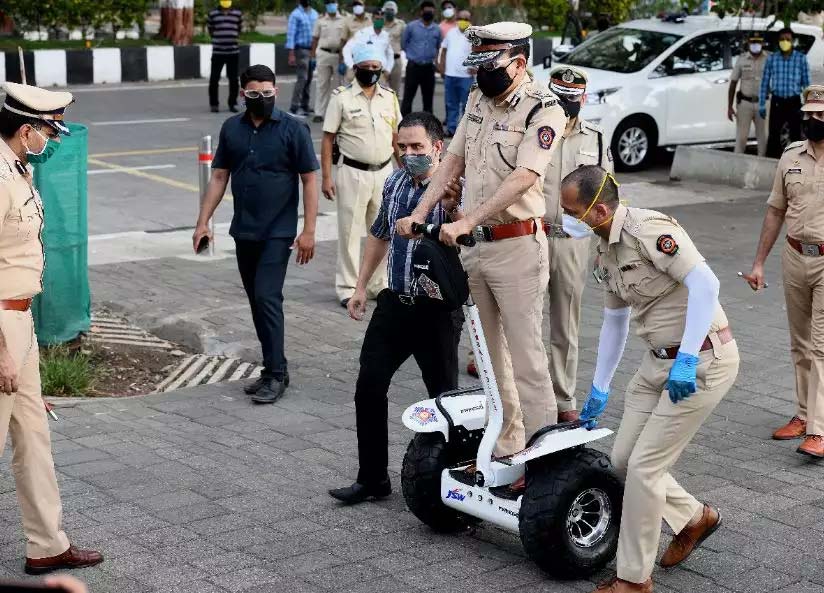 Is a mainstream solution on the cards at some point?
Maybe slowly and steadily this newfound change will make its presence felt.
And there there could be a time where one sees all other prominent states across India's wide geography adapting the emphatic move. Isn't it? Imagine the same decision being taken by a Delhi, Ahmedabad, Goa, Chandigarh, Patna, Puna, Bangalore and Hyderabad. They are too, after all, big police forces and always on the move- right?
Shouldn't they too get their fair share in this process of upgradation?
What is known and can be confirmed at this point, however, is that the newfound change stems from the desire and idea of the country's Home Ministry.
For quite some time now, the same has remained passionate about its desire to see the city's workforce being modernised with latest technology and related gear.
And that being told, must the Home Ministry be credited for bringing about the much-wanted change in thinking, attitudes.
At the end of the day, it never hurts in any way to walk in lines with changing times. Isn't it? What do you think?