Every day hundreds of animals are caught up in places and situations that they should never be stuck in, but we live in a place with tons of garbage surrounding us at all times, so something like this is bound to happen. We often see videos of animals, especially dogs, being stuck in weird and harmful places, like that dog who got stuck in a tar drum and wasn't able to escape their until some dog rescue people came and got him safely out of there.
Something similar, yet less horrific happened with a pup, who was stuck in a drain from the last two days until Milind Raj spotted him during his morning walk. Raj heard the whining of the dog and followed the voice after which he saw the dog. As described by Raj, it was almost impossible for any human being to jump in the drain and save the dog due to the kind of place that it was. So, he decided to do the next best thing in this situation, incorporating technology to save the pup.
The 27-year-old has a keen interest in Artificial Intelligence (AI) and builds robots for a living, he went to his lab hoping to put together a device to help the pup out. He decided to attach an AI-controlled robotic arm to a giant drone. Both are devices he built in his Lucknow lab.
Raj told NDTV, "The drain was so filthy, it was like a bog, It was not possible for a human to rescue the puppy without endangering their own life, so I decided to put technology to the task," he said. "I decided to use the AI-controlled robotic arm because it has a smart heartbeat sensor. Attached to the drone, I knew it would be risky but may work," he added.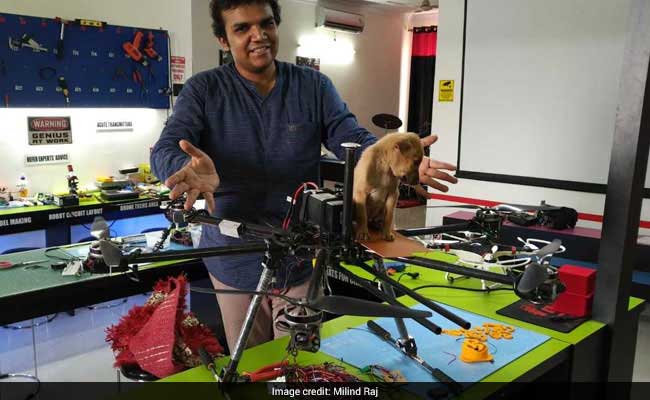 The entire thing made to save the puppy, took six hours to assemble after which he went back to the drain and finally took the pup out of that place.
Once the pup reached safely on the ground, he vomited quite a few times which has likely happened due to all the drain water that he might have consumed in the last 2 days while being stuck. Raj also told NDTV that the puppy vomited plastic, which included some paan masala packets that are in abundance in the drain.
But this is just not the end of this news. Raj, in the end, decided to adopt the puppy and has named him 'lifted' due to the entire course of events through which he met him.
Jyotsna Amla