It seems all the people who have the power to save our lives or govern them are leaving no stone unturned in being responsible. This year the news such as people dying in hospitals because of the irresponsible doctors, attempt to rape of patients, kids losing their lives because of the lack of oxygen and what not, have flooded the social media, with the year-end, another shocking incident has raised doubt about the lifesavers.
The government makes places like colleges and hospitals for the betterment of society but looks like the members who belong in there have forgotten that. The basic priorities of such places are losing their place and it's becoming nothing more than a hub where people could hardly put their faith in.
In a shocking incident in Meerut, Uttar Pradesh, Ambulances were used to ferry cartons of alcohol for an alumni meet that was held on 25th December 2017. Not only that, the meet also has belly dancers to entertain guests.
Meerut: Liquor cartons stored in an ambulance van, Belly dance performance at alumni function of state-run Lala Lajpat Rai Medical college (25.12.17)
Meerut: Liquor cartons stored in an ambulance van, Belly dance performance at alumni function of state-run Lala Lajpat Rai Medical college (25.12.17)
Ambulances that are meant to carry patients to the hospitals were put to such use, and Doctors who were gathered to share their knowledge for the betterment of our health were served alcohol and entertained by belly dancers.
The incident happened at the state-run Lala Lajpat Rai Medical College in the college's premises on the occasion of the silver jubilee function organized by the old school association. Even the doctors from the 1992 batch attendant the meet.
All the guests were served alcohol inside the college premises and at the afternoon Russian belly dancers took to the stage to entertain them.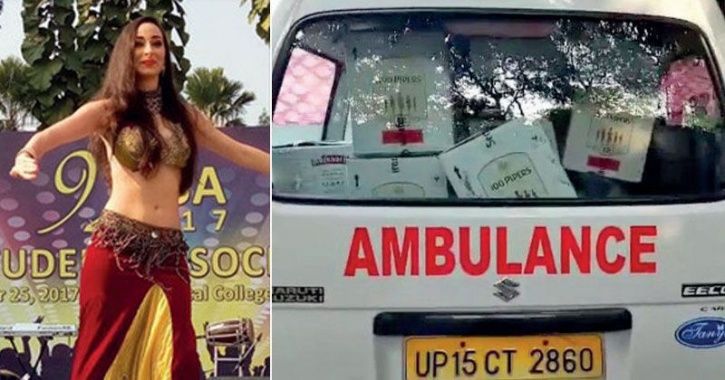 All of it happened and got reported by ANI. When the authorities were asked to comment, Principal Vinay Agarwal stated that he had no idea about any of such activities and he has already ordered a departmental probe.
He stated, "I got to know about it in the evening and I am yet to hear from the organizers. We are yet not clear if ambulances of the institute or some other private hospital were deployed for the purpose. We will get to the bottom of this."
I got to know that Russian Belly dancers were called and liquor was stored in an ambulance van, it is absolutely wrong, it should not have happened at a state run medical college. Inquiry has been ordered into the incident: Rajkumar, CMO, Meerut
He may have ordered an inquiry but Times Now have already shared the whole video where you can clearly see ambulances carrying alcohol and dancers working their magic on guests.
We all deserve some fun in life and organizing a party is not offense, however, exploiting power by ferrying alcohol in college premises and inviting Russian belly dancers went too far. They are setting an example for their students and we are not sure what are they encouraging them to do in the future.
26 December 2017
Avni S. Singh