You must have read the name 'Legion' in leading Indian newspapers as the group is making headlines since last couple of weeks. While Several state-owned hacking groups have emerged amid the tensions between leading nations, India, the fastest growing nation in the world, is the latest victim of a cyber attack that took the nation by storm after a group called 'Legion' hacked Twitter handles of Indian Leaders and entrepreneurs. The group has opted similar strategies as that of 'Ourmine' that hacked Mark Zuckerberg's Pinterest and Twitter account last month.
Although 'Legion' has taken a 'so called' stance against corruption but the fact that privacy of many people is on the line here, can also be not ignored.  To make people know about this hacking group, here we are with a list of victims and how Legion operate.
Targets
1. Rahul Gandhi: The Congress Vise-President was their first target. His twitter account got hacked followed by some abuse tweets and a threat to expose Indian National Congress' misdeeds. The matter got worse when INC lost access to its own account.
2. Vijay Mallya: There next target was the Vijay Mallya, the business tycoon who owes Rs 9000 crores to 17 Indian banks and has escaped Indian Jurisdiction by taking shelter in England. Legion released his whereabouts in England and vowed to bring Mallya to justice.
3. Barkha Dutt (NDTV's Chief Editor and renowned columnist): When people were trying to digest the above two hacks, Legion hacked Barkha Dutt's account and threatened to uncover her private mails.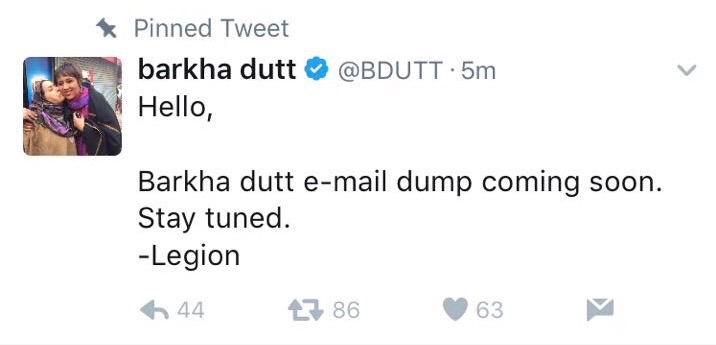 Legion has claimed that their next targets will be another business tycoon Lalit Modi and sansad.nic.in, Indian Parliament's official website.
What is Legion and how they operate?
Going by the name, Legion is probably a group of people and according to the reports from Delhi Cyber Cell, the group is currently operating from five states i.e. US, Sweden, Romania, Thailand, and Canada. However, tracking signals can be bounced from one area to another and there is a possibility that Legion may be operating from India.
They are operating through an email id [email protected] and are requesting general public to support their cause and help them fight corruption.
It looks like these cyber criminals have taken PM Narendra Modi's stand against 'Corruption' rather seriously, however, despite their idea sounding funny, hacking is not a light issue whether the motive is good or bad.
Coming back to [email protected], Sigaint is Tor service, an Onion Router that enables the users to send and receive emails without surveillance and provide anonymity on the Internet, making it impossible to track. Further, these Tor websites give its users an option to bounce IP Address from one server to another which acts as barriers to their actual location.
So far, Legion has targeted rich and renowned personalities and how they did it, is still a mystery because Twitter officials have stated that the company's server has not found any mal activities being carried out and that means that Legion has the exact passwords of all the accounts that they hacked.
There is also a theory that the mail servers of all the victims were compromised by Legion as, for resetting or extracting password information is done through e-mails.
This whole scenario has further exposed the vulnerability of email hosts and Indian Cyber Security. Recently a Pakistani engineering student hacked an Indian Government portal and the event is not new in the eyes of Cyber Police. Poor infrastructure and quivering cyber security have led to many such attacks in the past where the Government has paid these hackers to gain control over the server.
However, Twitteratti have found a way to popularise their Twitter handle and it's hands down hilarious.
#Legion bhai, hack my Twitter account and add a blue tick with 3675431 followers. Then give it back. I will put strong pwd.#HackerLegion

— Manish Sharma 🙏 हर हर महादेव 🙏 (@loginmanish) December 11, 2016
#legion I have very few followers please get me some followers, I am sure u guys can do this too, #salutetolegion

— vishal sharma (@V_shall2911) December 11, 2016
#legion I have very few followers please get me some followers, I am sure u guys can do this too, #salutetolegion

— vishal sharma (@V_shall2911) December 11, 2016
"Hey Legion, please hack us, thodi to popularity mile !" pic.twitter.com/mEkwgfSiNe

— The Lying Lama 2.0 (@KyaUkhaadLega) December 10, 2016
Legion's reaction after hacking and reading Ashutosh's emails in English pic.twitter.com/DnESt9zfPn

— The Lying Lama 2.0 (@KyaUkhaadLega) December 10, 2016
Thank you Legion ji for not hacking my account by mistake… #BarkhaHacked pic.twitter.com/gvpAiX6k8l

— The Viral Fever (@TheViralFever) December 10, 2016
Mere PASS-WORD nahi hai teri tareef krne ke liye 😒 #Legion

— Shushant (@whoshushant) December 11, 2016
Arnab Goswami, as he quit @TimesNow – "The game begins".

* @twitter accounts getting #hacked *#Legion – "The game begins".
Ahem.

— Prabhas Tiwari (@Pr4bhas) December 11, 2016
BREAKING:We Strongly Condemn This Act Of Hacking On Our Journalists. We'll Take This Issue To UN: Nawaz Sharif

— Sir Jadeja fan (@SirJadeja) December 10, 2016
JUST IN: #Legion posts first dump of Barkha Dutt's emails – 90% of them are to and from Arun Jaitley above exclusives on NDTV

— The UnReal Times (@TheUnRealTimes) December 10, 2016
Types of Hackers: Black Hat, White Hat & Grey Hat. NDTV should display these 3 colors on Screen as #Legion Group hacked Barkha Dutt & Ravish

— Anshul Saxena (@AskAnshul) December 10, 2016
https://twitter.com/sagarcasm/status/807641208214331392
JUST IN: #Legion hacks into PM Modi's Twitter account, finds full form for LEGION

— The UnReal Times (@TheUnRealTimes) December 11, 2016
Jokes aside, how Indian Government and Twitter Inc. will handle this threat is another question but how far Legion can go and who else will come under the radar is the question that Indians are finding an answer of.
What do you think about Legion and their stand against Corruption? Do share it in the comment section below.
Follow us on Facebook, Twitter and Instagram for more updates. Don't forget to like and share. Do tell us your views in the comment box below.
13 December 2016
Rohan Jaitly