Kalpana Chawla first Indian female Indian-American Astronaut to go to space. She was born as an ordinary girl on 17th March in a small town of Karnal in Haryana, but her extraordinary choices to follow her dreams made her inspiration to the women all around the globe. Kalpana Chawla is an epitome of how you can turn one common life into a legend by your great achievements and deeds.
Kalpana was one of the people who lived their life productive enough to remain alive for forever in the hearts and minds of the others. As the saying goes 'Great People Never Die' Kalpana made her life great enough to inspire many even after she died early at the age of 40. On 1st February 2003, Kalpana died while Columbia flight STS-107 was returning back to the earth. The shuttle was malfunctioned and disintegrated and that caused the death of Kalpana Chawla along with six of her other crew members. A girl who dreamt of winning the stars and space was lost in the space for forever.
Every country has some of its heroes and India is proud that she is one of ours. The life and achievements of her life continue to inspire us and she will never be forgotten. Born in a male dominant society she conquered every heart as a king and touched the sky with her dreams. Words will never be enough to write about her but we have compiled 10 rare facts about her which make her the best example of being a hero.
Here Are 10 Rare Facts We Bet You Don't Know About Kalpana Chawla:
1. She had a clear vision of what she wanted to achieve.
2. She had too many Degrees to her name.
3. This was when she was training to become a certified pilot herself.
4. Apart from studies, she also had many hobbies.
5. Her passion got her here.
6. Her love for flying was well-known.
7. Awards and Kalpana, go hand-in-hand.
8. Her life-long dream turned into reality.
9. She truly was a born decision-maker.
10. She still remains in our hearts.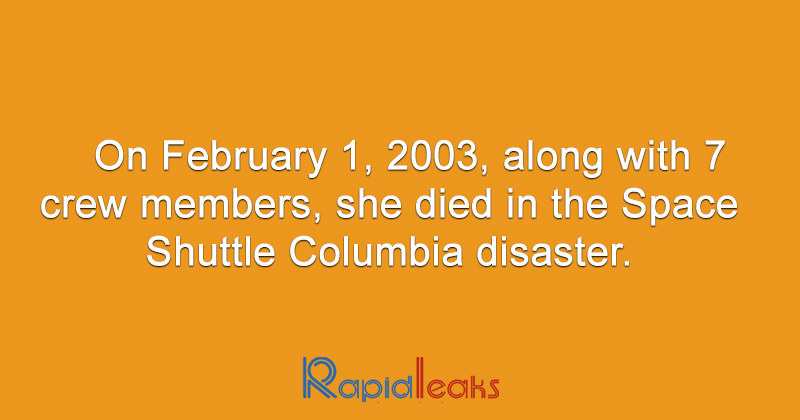 Follow us on Facebook, Twitter and Instagram for more updates. Don't forget to like and share. Do tell us your views in the comment box below.
17 March, 2016
Avni S. Singh