In the present times, when most children treat their aged parents as a responsibility and have least or no respect for them, there comes a sunshine in disguise. The story of Kailash Giri Brahmchari's devotion for his 92-year-old blind mother is so intense that it can give you goosebumps.
Some 20 years ago, his mother expressed her wish to take a char dhaam yatra, the four most sacred religious sites for Hindus in India.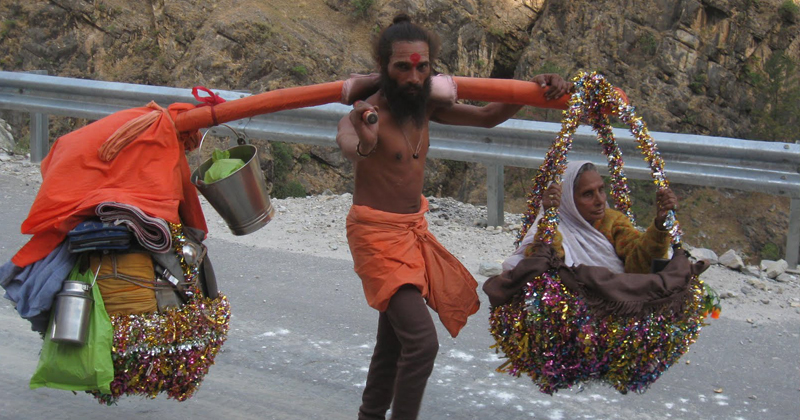 The man, who was in his mid 20's then started the task to fulfill his mother's wish with full heart.
Today, he is close to 50 and has travelled over 36,000 km along with his mothers on his shoulders. He has literally given his own life into making his aged mother's wish come true.
When Kailash was 8 years old, he met with an accident and was in critical condition. His mother then vowed to undertake journey to some religious places if he gets well. Her prayers bore fruit and Kailash recovered without medicines. He lost his father at 10 and his sister and brother are also dead. So on growing up he took the responsibility to fulfill this wish of her mother.
Just like the legendary Shravan Kumar, he carries his mother in a double basket sling over his shoulder. His mother sits on one side while he keeps utensils, clothes and other heavy things on other side to balance the basket.
He walks like this every day for 5-6 km. They start at 6:30 in the morning, rest in afternoons and then start again in evening. At night they take shelter at some temple or roadside.
Kailash cooks whatever is offered by people and feed it to his mother first.
In this journey, which took them to length and breadth of the country, the mother-son duo has covered most of the well-known temples and holy cities in India.
Now, they are in the last leg of their pilgrimage in Agra-Mathura. He expects it to complete soon and return to their village in Madhya Pradesh.
Kailash, who is hailed by many as Shravan Kumar, doesn't really like the comparison. For him its enough if some youths start respecting their aged parents and see almighty in them after seeing him.
22 April 2016
Rumani