For a country admired for its diversity, could there have been a compliment any better than India being home to the greatly debated 'statue of unity?'
In a country so used to impassioned debates; one where politics evokes a response from everyone whether an engineering graduate, a wannabe cricketer, or a homemaker, one wonders what's the response of those who'll finally get to see among the most interesting places to see in India, the statue of unity?
After all, how often has the great Sardar Vallabhai Patel found his own place; his own firmament of individual standing in a land that so utterly in love with the great Mahatma Gandhi?
But while it makes less sense to make a question out of everything and perhaps there lies some sense in admiring this giant sculptural feat, it's worthwhile to share that 31 October 2018 will be curiously devoted to the iron-man of India, the great Patel, the date of his birth in 1875.
How often has this great son of the soil found to his regard, a massive stamp of respect whilst continually being a subject of newfound curiosity, intriguing debates unstoppably pitting his strategies, leadership skills and personalities vis-a-vis the legendary Father of the nation?
But while on the one hand, it makes profound sense that a country, that's become a hotbed of an arcane brand of politics, has finally paid a homage to a worthy political leader (who perhaps may not be brilliantly defined once addressed as a politician), there's also a sense to recognize the whirlwind debate being generated regarding the massive sums allocated to construct this milestone, on the other hand.
That it is the world's tallest statue- 182 meters in height- should automatically attract tourists to visit among the most interesting places to visit in India, the statue of unity. But that the construction of this behemoth sculpture has required a sum of a whopping INR 3001 crore has stunned passionate critics of the current ruling government.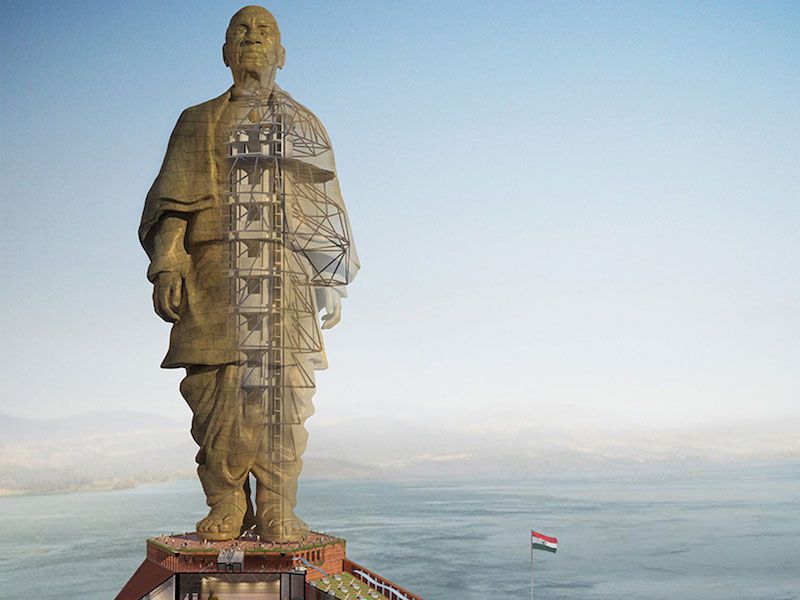 That they've termed the act as a 'no-brainer' particularly from the standpoint of India being home to as many as 70 million poor in the world is understandable but that no visible concrete resistance to curbing the statue of unity's construction was taken also demands a worthy debate from anyone and everyone, whether an armchair activist, an RTI critic or a Hindutva supporter.
Most countries remember and respect its heroes. To that regard, countries like Germany and Austria have gone ahead and still preserved even reminders of a dark, dubious past, such as the sights and monuments belonging to the period of Nazi tyranny as a potent reminder to abstain from such abominable years.
That India has extended an ode to one of its biggest unsung heroes speaks well of its remembrance of a time where amid the clamor and bloodshed pertaining to the freedom struggle, there stood heroes like Patel, a former deputy PM.
In fact, a popular saying goes on like this: only the worthy pay an ode to the worthiest.
But one can't be blamed for thinking whether Sardar Vallabhai Patel would have himself permitted such a colossal financial dedication toward remembering him in the form of Gujarat's current bastion of tourism that stands across the Narmada dam.
Anyhow, while one is glad that you and I needn't give answers to a country that's largely in search of some pertaining to the Patel-monument, it's heartening to note that in a land famous for Ajanta and Elora caves, Taj Mahal, India Gate, and other wonders, there's now a real monument saluting a true Indian wonder. Soon, when the debates would've settled down, one will focus back on the prospect of enjoying seeing something among the interesting places to see in India, the statue of unity.