In a country like India, where there's never any dearth of humungous civilian duties and responsibilities, few positions or vocations in life can be as mighty and meaningful as that of the civil services.
Whether it is for tax, administration, and other civilian services of the country, the role of the IAS officer in India is extremely important. And even in this day and age where several high-paying, industrious professions have blossomed over the years, there are few things out there that can replace the importance of the IAS services.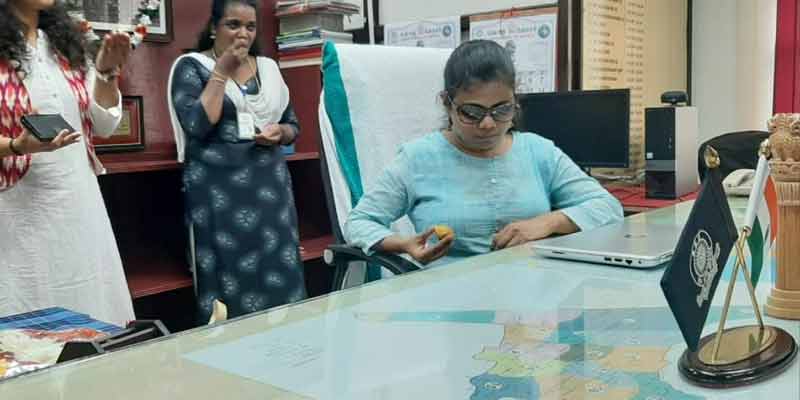 And guess what? The firmament of the Indian Administrative Services has only just found a new spot of inspiration. India's first blind IAS officer has just recently taken charge of her duties.
In what appears to be an unprecedented and promising step in the right direction, the appointment of India's first blind IAS officer is being looked as a great new step in the right direction for forthcoming pursuers of the services; a development that shall inspire those who aim to serve the country from a position of authority and influence.
But first up, who is India's first blind IAS officer and where does the individual hail from?
The country's first visually-impaired IAS officer is Pranjal Patil and in her current capacity, she has taken charge of Thiruvananthpuram's sub-collector.
Ever since she got her appointment into the establishment of the IAS services, back in 2018, her current role happens to be her second assignment.
She said that she was excited to be working in Kerala and looked forward to the new assignment as sub collector. "We must never give up, we will get that one breakthrough that we are hoping for," she added.
Pranjal lost her vision at the age of 6. Hailing from Ulhasnagar, Maharashtra, she completed her postgraduation in internal relations from JNU. In 2016, she secured 773rd rank in the UPSC exam. Though she was eligible for various posts under IRS, she was not appointed because of her visual impairment.
Pranjal gave a second attempt in 2017 in which she secured 124th rank, easily qualifying for IAS.
But central to Pranjal Patil's story is the hunger to do well and reach a position of formidability in life despite being visually challenged, a sort of serious setback that can derail many an individual from the path of progress in life.
On the occasion of her appointment in her recent role, The Hindu, among the best-known national dailies of the country explored more about Pranjal's life and reported the following:
Ms. Patil opted to spend her first day in Thiruvananthapuram, familiarising herself with the new environment. She said she expected a lot of support from the public and the Collectorate staff.
The loss of vision at the age of six did not deter the youngster from Ulhasnagar, Maharashtra, from pursuing her civil service dream. In 2016, she cracked the Union Public Services Examination on her first attempt with a rank of 773. Ironically, she was refused a job in the Indian Railway Accounts Service on the grounds that she was visually challenged.
Her hard work and perseverance have been duly noted by her peers and members of the political fraternity in the state of Kerala.
Suggested Read: Know About The Cleanest Railway Stations In India.
Mr. Biju Prabhakar, Special Secretary, Social Justice, who was present, termed her assumption of office as an auspicious moment for the district of Thiruvananthapuram. Mr. Gopalakrishnan, handing her a bouquet, urged the Collectorate staff to help Mr. Patil in carrying out her work.
It may not be wrong to suggest that the rise of India's first blind IAS officer shall go a long way to inspire a country where, to this day, the need for honest, determined IAS officers is about as essential as is the very concept of economic growth and development.