News surrounding an expansive new airport project to be made in India has been commonly known to all. The fact that Jewar, not so far away from the national capital New Delhi is going to have a brand new airport has excited as much as the forthcoming development has kept many waiting for a while now.
And now, here arrives another important piece of information that might be of interest to not only those in the realm of civil aviation, but also to those working in the field of infrastructure, engineering, and the airlines industry.
It has been recently confirmed that India's biggest airport is being developed by a Swiss firm. And what's more? India's biggest airport, an ambitious project that has long until now, been in the pipeline has resulted in outbidding key local players.
News reports confirm that in the process of being awarded the ambitious task of making India's biggest airport, the Swiss firm which bagged the order managed to succeed in outbidding giants like Adani and Anchorage Infrastructure Investments Holdings Limited.
That said, here's another important point of information. The Switzerland-based firm that's bagged the prestigious contract also operates the Zurich airport also, in the process of its mega infrastructure-award, outscored the prominent Delhi International Airport Limited (DIAL).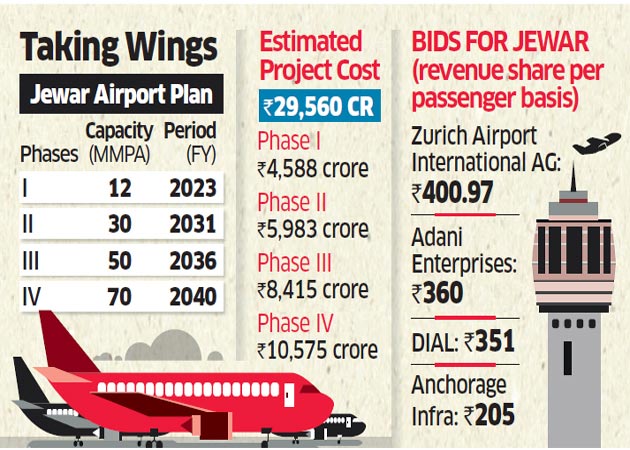 The yet-to-be-made Jewar airport will be made over a total area of the size of 5,000 hectares. India's biggest airport is also known as Noida International Greenfield Airport. The overall cost of making India's biggest airport comes around Rs 29, 560 crores.
A key person in charge of the enviable and prestigious project is Mr. Shailendra Bhatia, the nodal officer concerned with the same.
NDTV shared, Zurich Airport International AG has made the highest bid for developing the Jewar airport and has been selected as the concessionaire for the airport," he added.
On Wednesday, the four firms were announced to have cleared the technical criteria as proposed developers for the new airport.
The selection for concessionaire has been done on the basis of premium per passenger (pax) offered by the four bidders.
Anchorage Infrastructure Investments Holdings Limited offers Rs 205 per pax, Adani Enterprises Limited Rs 360, DIAL Rs 351 and Zurich Airport International AG 400.97, Bhatia told PTI.
All of that said, the key difference that India's biggest airport is going to add is by contributing to a bustling scene in the country where the world's largest democracy is already taking a gung-ho step at stepping up the airport infrastructure revolution.
Just how is this to happen? In the next 5 years and counting, the country has taken a key decision to make 100 new airports, in different parts and regions.