Has the chance of India and Pakistan Aman Ki Aasha. Hope for peace. It all sounds just and right and correct in every possible way- right? After all, who wants war, bloodshed, the usual cacophony, loudness or embitterment? Life's too short for it. Is it not?
While all of this may sound right and hey, it is for let's not forget that politicians too get tired at the end of the day from the constant bickering, what's the way forward for India and Pakistan to mend their ties?
While instantly most of us would've made our assumptions on how India and Pakistan can broker a way ahead, since, we must give peace a chance anyway, here's what's important to know.
A few hours back, the Imran Khan's government released a statement saying that the talks regarding peace between India and Pakistan seem more possible (or achievable), should Narendra Modi be re-elected as the country's prime minister- this raised a question.
The general elections are anyways in full fever pitch in India.
And truth be told, there's a reason why Imran Khan would've said what he did in regards to Narendra Modi. At the end of the day, the Prime Minister of a state, bonkers that Pakistan may be, would have his own sense of wisdom and sense to understand his opposite number from India.
Is that utterly incorrect?
To that end, here's what is Imran Khan stated, according to a Reuters report:
Islamabad is determined to dismantle all terror-based groups around the country, and that the government had full support from Pakistan's Army for the programme.
But in what turns out to be a rather interesting development in the immediate aftermath of the candid statement- for at least, this is what it seemed from Imran Khan- is the opposition party's response to Pak PM's stance on Modi and elections.
Wondering what it is?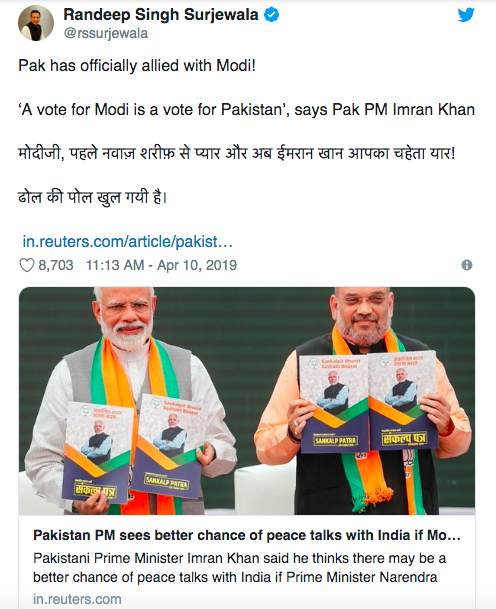 Well, some of us may want to sit down with a tissue box, for the sheer laugh-ability of what the opposition's comment generates and some of us may, well, admire and applaud (for obviously, it's a free world out there)
AAP Chief Mr. Arvind Kejriwal shared the following and quoting NDTV here directly:
"Why does Pakistan want Modi-ji to win? PM Modi, please tell the nation how deep your relationship is with Pakitan? All Indians should know that if PM Modi wins then crackers will be burst in Pakistan," tweeted AAP chief Arvind Kejriwal.
The above told, in a separate tweet, the AAP supremo also happened to share the following:
"Pakistan mein macha shor, Narendra Modi once more (There's clamour in Pakistan for a second term for Narendra Modi)" Mr Kejriwal said in another tweet.