Barbados, the great treasure down in the Caribbean, happens to be the land of the great Sir Garfield Sobers, an all-time cricket legend. It also happens to be the home of one of Pop Music's finest voices ever- Rihanna. And now, Barbados will also be the land to receive several vaccines as a part of 'donation' that its friend from South Asia- India has extended very lovingly.
All of this while social media continues to mock Rihanna for apparently the greatest or most heinous crime perpetrated in modern history of mankind: writing a tweet showing solidarity towards the farmers' protest in India.
How a message of no more than 140 characters caused bitterness to India is something more complex to understand than the valuation of gold stocked with Bappi Lahiri.
But anyways, that's us Indians. We might hate you, in particular, for saying something, but probably we will never cause strain in our relationship with your family or say anything to your parents.
You may certainly have heard a famous saying, albeit one that has been going around in lighter vein of thought: "Anything goes in India."
One must, therefore, ask- "You mean also polarization too, right?"
How else are you to judge the breaking development on the part of India then?
While on the one hand, the country with its so called nation-loving patriots, (who dare and claim to serve the country in a manner that would inspire awe from those who actually serve in the armed forces) continues to deride the pop-singer, the very nation has also beautifully extended a charitable hand of support toward Barbados.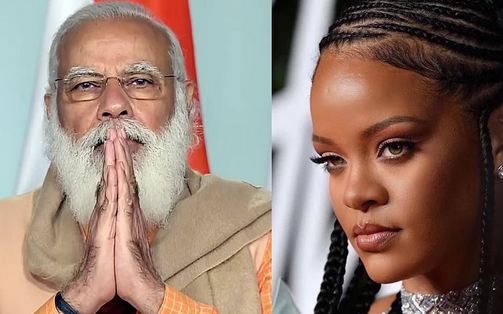 You might it a crazily-opinionated country, where those who frequent Paan-shops and chai-stalls offer wisdom on every little thing whether it is finding faults in Rahul Dravid's batting technique or not being too impressed with Michael Jackson's dance moves, but at the end of the day, we are always there for one another.
And not only that- we also remain in service for those who need us, unless and until it's not that familiar country from the other side of the border.
But let's not humor ourselves with that banality, let's move to what India seriously did for Barbados:
The PM of Barbados had earlier written to PM Modi, for the donation of the Indian vaccines to which there appears an official statement from the West Indies, the very country that's holding on to dear life in the First Test match, after being white-washed by Bangladesh in the ODIs recently:
"The Minister of Health and Wellness and the Chief Medical Officer both have confirmed that the vaccine has been approved for use in Barbados and will be administered in accordance with the manufacturers' guidelines!"
India, that's already sent vaccines to countries like Brazil, thus offering much-needed support during times of duress, didn't take long to oblige.
Moreover, here's an interesting piece of news published in a report in the Hindustan Times:
India has a list of nearly 152 countries asking for coronavirus vaccine and is expected to supply near 16 million doses to at least 60 by March.
Perhaps, in lighter vein, it ought to be said, that at a time where the country is so promisingly shouldering support to the others, why not apply a vaccine to the lightest vein in the human body of the most scathing Indians, only so they tweet less, mock even lesser and just take it easy?
All Rihanna did was just offer support towards the Farmer's Protest- did she hurl vitriol or profanity at anyone?
Note: the views, retarded that they may be, are of the author and do not carry the opinion of RapidLeaks!