If you wanted to understand that just how big is the size of the Indian economy or its relative strength, then perhaps visiting a bit of a random statistic involving Pakistan would do it for you.
Apparently, India's foreign reserves are far more than the current GDP of its neighbor, Pakistan.
Anyways, the Indian economy has come a long way ever since the time of its liberalization, circa the 1990s. And that told, where it stands currently, India has a very healthy Forex reserve of roughly USD 400 billion.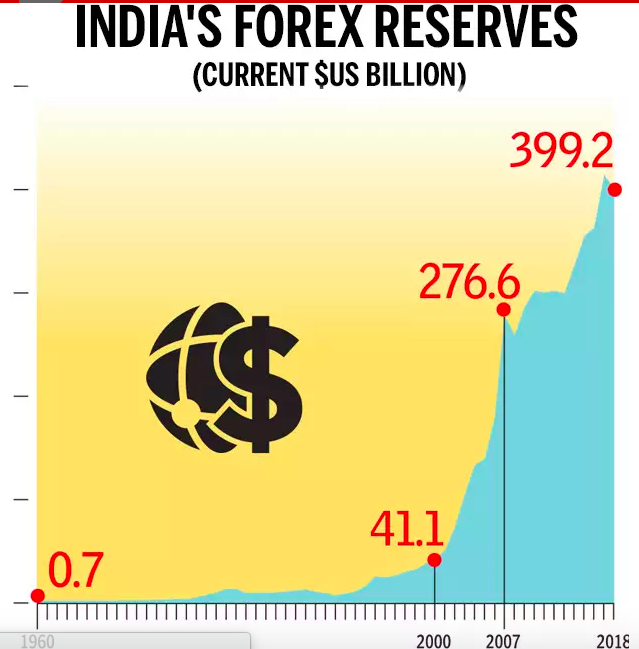 That's nearly $100 billion more than Pakistan's entire GDP as of 2018, the last year. Now if that doesn't say a thing or two about the Indian economy's strength, then what will ever suffice?
But let's make no mistake. India's had to work a lot harder than what most would ever imagine. The last four decades have seen a rampant rise in both entrepreneurship and corporate'.
More organizations that are centered in the west have been heading to this part of South Asia for the longest time. In fact, in this part of the 21st century, a question that can highlight the Indian enigma could well be:
Who doesn't want to open shop in India?
Wallmart is here already. Soon, Ikea is well on course to scale up its India operations following a massive plan for Mumbai.
Many automotive brands have begun manufacturing here altogether.
While many would boil it down to the availability of cheap labor, in reality, there's a lot more to it.
On that note, it might be asked. Had it not been for the country's far-reaching expertise in all things IT or engineering, one reckons just what might have been to its all-encompassing talent?
On a yearly average, according to numbers from noted web platform Youth Ki Awaaz, India produces as many as 1.5 million engineers year after year. They not only serve the Indian economy but forward an earnest contribution in many of the world's leading countries- England to the USA, France to Germany and so on and so forth.
To this day, the agricultural output of India is massive and heartening toward strengthening its overall GDP. According to the latest estimates, the overall contribution of the agriculture sector to the Indian GDP is somewhere around 6.4 percent, which is much higher than the world's average.
While its critics may (often) base their somewhat insular narrative around the complex political structure of the country, but truth be told, the world's largest democracy has come a really long way than just being the home of puppeteers and snake charmers. For starters, to understand the relative strength of the Indian economy, any of the late-great APJ Kalam's books or even Shashi Tharoor's The Elephant, The Tiger, and The Cellphone would serve a strong case.