The Jawaharlal Nehru University. It's more than just a university, it's a temple of learning. It's not just a temple of learning, it's a firmament of Indian culture that lies at a melange of politics and education.
So much in the heart and DNA of this famous university has gone onto depict the climate of Indian politics and national culture in the past several decades.
But where the past few years stand then it appears that the JNU has arisen as an endorser of firm political views, many of which have happened to trigger rather escalated and tense political tongue-waging.
Yet, at the same time, the JNU has birthed interesting personalities such as Kanhaiya Kumar. But now, all of all the people, Punjabi pop and folk singer Hans Raj Hans is of the opinion that its time that JNU got a new name.
It must be reminded for the brushing up the memory of our readers that singer Hans Raj Hans also happens to be a BJP MP. But in giving birth to a statement that seems anything but not politically motivated, artiste Hans Raj Hans said that JNU should be called the MNU or, to put it simply, the Modi Narendra University.
In the past half a decade, ever since he's risen to power, it ought to be said, much of India's contemporary narrative seems to have been etched in the cult of 'Modisms.'
Not a leader who's taken lightly by anyone, and at the same time, not a leader you'd not want to forge healthy ties at a global stage, whether it is the Swacch Bharat Abhiyan (Clean India Campaign) or the recently-evidenced Scrapping of the Article 370 in Kashmir, Modi seems to be the author of several masterstrokes that have only strengthened his standing in a country where politics is debated in the very last mile of every village, district or mega cosmopolis.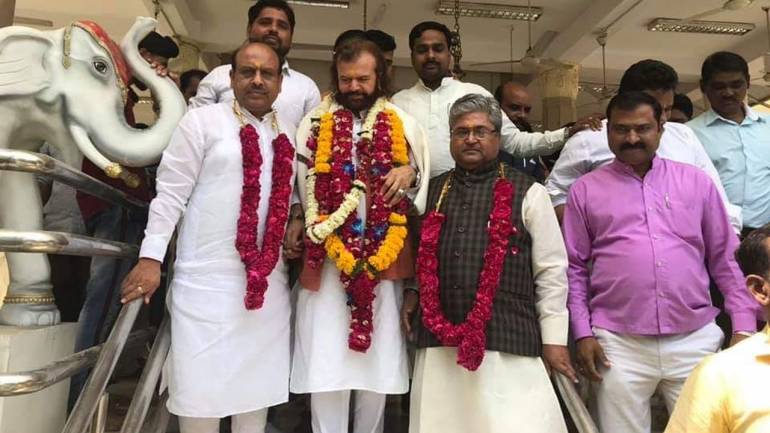 But present amid hundreds of star-struck attendees at a musical gathering, singer Hans Raj Hans heaped praise on the prime minister whilst coming down harshly on the Nehru-Gandhi family, even as the educated lot might be correct in thinking that the singer may not be qualified to speak on luminaries like Pandit Nehru for 10 flat minutes.
He declared in a no-holds-barred manner, "we are facing the brunt of the mistakes committed by our elders."
He went on to add, "Pray that we all live in peace and no bombing takes place." And this is exactly where he caught the public's attention as he went on to add, "I would say we should rename JNU and call it MNU after Prime Minister Modi. Something should be named after Modi Ji."
But if you thought that that was the end of it, then you are mistaken. Hans Raj Hans also directed an attack on Nehru as he said, the former Prime Minister was wrong about Kashmir in the past.
But BJP legislator Manoj Tiwari, who also performed alongside Hans Raj Hans, was quick to jump into the Punjabi artiste's defense saying that he says what he feels and that there was no negative intent behind his comments.