We all have grown up reading about the Chipko Movement in our social studies class and how amazing it was. The movement not only taught us the need for trees and a lush environment, but also impactful anything can become if people come together to work for it.
Today, Google Doodle celebrates the 45th year of Chipko Movement. A Movement which was started and led by the local women of Chamoli districts to protect the trees in the forest which earlier came under the Uttar Pradesh territory. However, the sections of the forest where the movement took place are now in Uttrakhand.
The movement began in 1973 and it was started against the trees being felled for wood and infrastructure development. Soon the phenomenon spread to other Himalayan states. The drive was called chipko, or embrace, as villagers hugged the trees and formed circles around them to save them from being cut.
The Chipko Movement was a nonviolent movement with a sole purpose of saving the tress from becoming another example of mass-deforestation. The success of this movement was felt all around the globe and soon became an inspiration for various future environmental movements.
Google blog states, "The Chipko Andolan also stands out as an eco-feminist movement. Women formed the nucleus of the movement, as the group most directly affected by the lack of firewood and drinking water caused by deforestation."
This doodle was a creation of artists Svabhu Kohli and Viplov Singh, who not only showed the premise of Chipko Movement but also shed an apt light on its main participants. The local women. These local women came in large number to protect the forests, trees in it and their livelihood.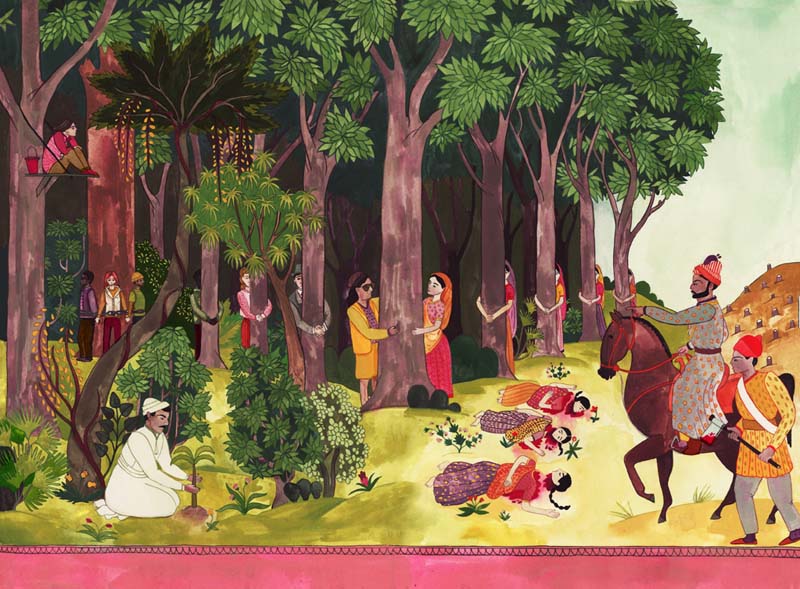 While it indeed was a globally-impactful environmental movement, it was not the first Chipko Movement. The original one dates back to the 18th century Rajasthan when a group of 363 people from 84 different villages, led by Amrita Devi, laid down their lives to protect a group of khejri trees that were to be cut down at the order of the Maharaja, or king, of Jodhpur. After this event, the maharaja decreed that the trees were to be left standing. The original movement was called "angalwaltha", the Garhwali word for "embrace," as the protesters protected the trees by surrounding them and linking hands, physically preventing the loggers from touching the plants. The movement was later named for the Hindi word "chipko," which means "to stick," explains the blog.
Jyotsna Amla