"Ganesh Chaturthi" is one of the most extravagant Festival of Mumbai (Though people celebrate it in every part) but for Mumbai, the fever of Bappa's worship is beyond everything. End of the monsoon brings the excitement that takes Maharashtra into another realm where 10 days it sinks in the ocean of devotion.
"Ganesh Chaturthi" is celebrated as the birthday of Lord Ganesha, the festival is observed during the month of Bhadra (According to Hindu calendar) between mid-August to mid-September. The birthday of Ganesha is not a one-day affair it lasts for 10 days, the first day of the festival is celebrated as "Ganesh Chaturthi" and the tenth day is called "Ananta Chaturdashi".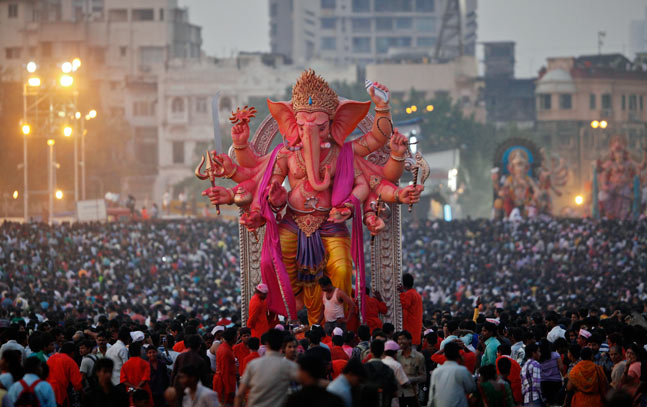 As the festival grips in, life changes in Maharashtra. People who kept running for work all year seem to adjourn during these 10 days. No body bothers to stress over anything, not even going to work as this festival is all about the festivities. Hindu pray to the elephant-headed God to shower his cherished blessings on them. This Year "Lord Ganesh" birthday celebrations begin from 5 September and it will continue till 15 September.
Here Are 11 Things You Should Know About One Of The Most Loved Festivals:
1. Ganesha is lovingly called "Bappa" in Maharashtra and almost every Hindu Maharashtrian household brings an Idol of "Bappa".
2. The Idol gets Sthapit (Placed) in a position of respect on a raised platform which often looks like a throne.
3. "Bappa" then gets adorned with new clothes and served as a most valued guest.
4. Devotees feed "Bappa" pure water along with milk and honey.
5. Friends and relatives get invited to pay  their respects to "Bappa".
6. As long as Bappa's idol resides at home, Pujas are performed twice a day.
7. You can choose to keep the idol of "Bappa" for 2, 5, 7, or 10 days.
8. On the tenth day, Uttar Puja is performed as the farewell puja of "Ganpati Bappa".
9. The Idol then carried and immersed in water, either lakes, rivers, sea. If you have none of these to immerse the Idol you can simply use a bucket of water.
10. The tenth day is popularly called "Visarjan Day" and Mumbai halts because of traffic jams.
11. In Mumbai, Juhu Beach and Powai Lake are the most popular Visarjan spots where you can see people dancing and bursting with happiness.
The most intriguing part of this festival is the devotion of the worshipers, people feel a deep sense of emptiness when the Idol of Bappa leaves home. The guest who has been fed, worshipped and taken care of leaves after 10 days and you can see people crying during the visarjan. The only hope of Bappa's return, next year, keeps them going.
Follow us on Facebook, Twitter and Instagram for more updates. Don't forget to like and share. Do tell us your views in the comment box below.
7 September 2016
Avni S. Singh