We are in a world where time is money, yet it is something which functions like an almost irretrievable currency- isn't it? Moreover, it isn't something that can't be bagged or tucked away safely, away from prying eyes! We all are, at the end of it all, running for it, behind it and yet, it is never enough. The only thing that one could do, in such a scenario, is that one could do the best that one possibly can- right? Which is why, it appears that concepts like food Genie are here to save everyone some sweat, especially at a place where one is either running late: the airports.
Late for your flight and feeling hungry? Think you will almost miss your flight in lieu of queuing up in an almost long, unending wait? Think this sort of thing happens to you all the time? What if we were part of a world where there was no queuing up at all? No? Wouldn't that be perfect?
Because, hey, let's face it, today, whether it's doing something as convenient as booking a cab, stepping into a fast-food joint, we don't want to while away time, desiring things to be delivered to us at the earliest. But through food genie- a new one-of-a-kind idea that actually helps the passengers to receive orders in due time and in fact, at their boarding gate of the IGI international T3 terminal- it appears that a lot of legwork is ought to be saved.
Sounds exciting, right? But, first up, what is the food genie, exactly and how does it function?
So the food Genie, media reports confirm, is a unique new service that has been introduced at the IGI Airport T3 which allows passengers to order food through the system of a kiosk. These aren't just any other kiosks, for as it is, there's hardly a dearth at airports. These are interactive food-ordering kiosks that enable passengers to book the food of their choice so that it can be delivered to them at their boarding gates.
Sounds exciting and something that hadn't been done before, right? Well, you're right. This wasn't something one saw being in operation earlier.
Quoting the Economic Times on the functioning of the kiosks, here's how they work: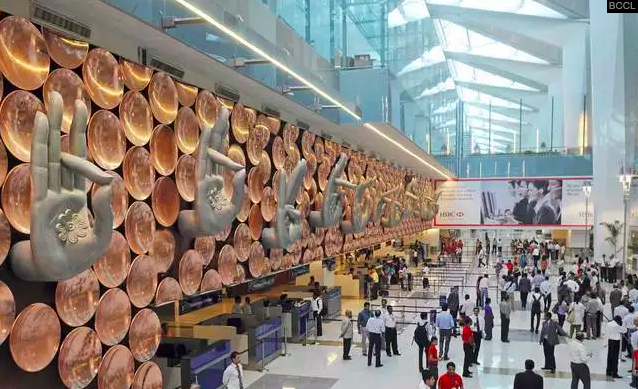 Now, passengers will not have to remain hungry with the fear of missing their flights or arriving late to the departure area. This first of its kind facility allows passengers to order food through kiosks from multiple food and beverage (F&B) outlets at the respective food courts at T-3's Domestic and International departures.
But implicit in this exciting change, hitherto unexisting at the international airport, is, without a doubt-the massive factor of convenience. The convenience meant for the traveler. This is met through the delivery, the key essential between the service on offer and the passenger's choice.
Therefore, this leaves us with a question: how is the food actually delivered to the end-customer and that too at the boarding gate of the IGI Terminal T3?
The food is delivered by personnel on electric scooters at designated pick-up points for passengers to collect it in up to 20 minutes.
When a passenger places the order at any of these kiosks that are placed near the boarding area, he/she is informed about the nearest pick-up point to their boarding gate, so that it becomes convenient for them to collect the food that they have ordered.
Now if that's not interesting, then one wonders, what is? Even as these are early days in the life of this concept-driven idea, it's not exactly hard to see how food Genie won't bring about the much-needed change in terms of bettering the overall passenger experience at the IGI Terminal T3. Here's wishing food Genie all the luck for adding to one's end comfort!