Usually, the concern facing most Delhi cabs, whether one believes it or not, is their constant jostling with traffic. Surely, being part of the famous Delhi NCR driving experience is in no way heartening especially during peak traffic hours.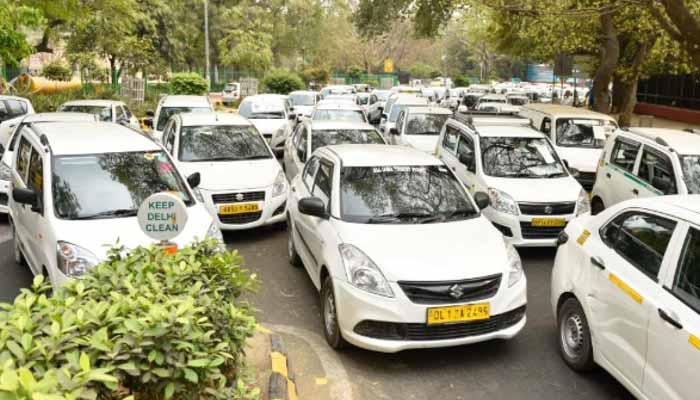 The other concerns that most Delhi cabs might feel they have as part of the everyday rigamarole could be not finding sufficient business.
But who would've thought that a concern utterly bizarre as fake news would come to impact the Delhi cabs? So are you flustered to read about the connection between Delhi cabs and fake news?
Well, here's what you got to know. In what appears to be a rather absurd rumor- birthed only recently (not too many days back)- Delhi cabs have begun to stock condoms in their cars for the simple reason that they fear that in the absence of keeping any, they would be 'challaned.'
For anyone wishing to delve in the realm of weird news, one doesn't have to go or look any further. Therefore, in lines with the above, it's common knowledge that Delhi cabs have started to necessarily stock some condoms on a daily basis.
But after reading the above, one wonders as to what might have caused or birthed the odd rumor in the first place? It is believed that a few days back, a Delhi cabbie called Dharmendra shared that he was fined by the cops for not keeping a condom in his cab.
This incident quickly spiraled into becoming a story and not long after, became a viral trend on social media. Thereafter, most Delhi cabs began stocking condoms out of the fear of being fined by the cops in the absence of them not doing so.
But this standalone incident which quickly gained traction and has, since then, gone onto create headlines has a rather amusing revelation at its heart.
Soon after the incident shared by Dharmendra- which, to this day hasn't been confirmed or proved- there came a ballistic announcement from the Delhi Sarvodaya Driver Association's President, Mr. Kamaljeet Gill.
Mr. Gill shared the following: "All public vehicles are required to carry at least three condoms at all times."
So that said while the Delhi cabs are stocking condoms and carrying them at all times, these aren't for the reasons that are mentioned above.
Popular news outlet India Today explored the not so usual piece of news in great detail and covered an interesting story that brought out some amusing developments:
Kamaljeet said that condoms are used to stop bleeding or to treat a wound. He said, "If any person has a fracture, a condom can be tied at the spot till the person reaches the hospital," Kamaljeet said.
A Delhi cab driver Ramesh said, "I have heard that it is necessary to keep condoms, so I always keep at least one."
He said, "Till date, traffic policemen have not asked me regarding this. However, many times during fitness tests, the cab drivers have been asked whether they have condoms in the car or not."
But all of the above told, what's most surprising is that none of the individuals who are concerned about being fined by the Delhi traffic police have bothered to check the new (latest) Motor Vehicles Act.
Where does the act mention that a cabbie has got to travel with a condom in the car?