There was Mayhem on social media on a manic Monday when posts urging to boycott online trade giant Amazon started flowing in, even in India.
Matter was, that there were doormats on sale on Amazon, which had images of Hindu deities printed over them.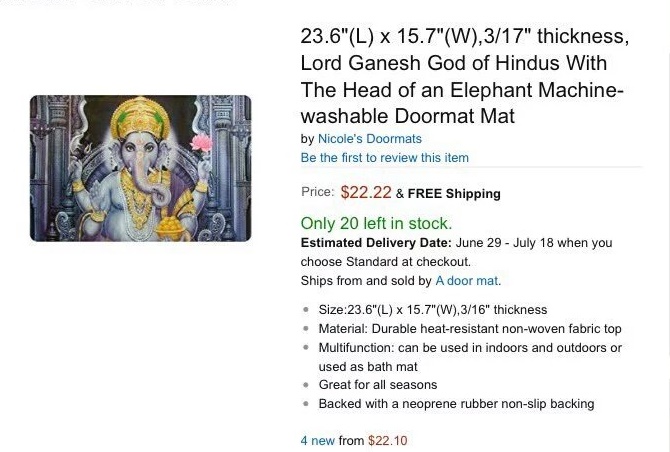 Nobody bothered to check whether these doormats were indeed being sold in India or not. Apparently there's a vendor by the name 'Rock Bull' who owns and sells this merchandise on Amazon.com; a website in the USA. Though, Amazon should keep a check on what's being sold on its portal, the company cannot at all times keep a check on the multifarious parties involved in online trade.
Since, social media uproar Amazon may have pulled down these products as I was not able to find any such articles on the websites' Indian or US portals.
That apart, how can anybody create and sell such offensive products online or anywhere else. In this age when information is so easily available, there is no chance that the manufacturer/seller did not know that these were photos of Hindu deities and not just random beautiful pictures. So, we can rule out ignorance as a reason behind this fatuous creation. There were also Jesus and Quran door mats available at the same link, so, we can also rule out religious hatred as a reason.
See for yourself:
So, the only logical theory may be that the manufacturer/seller was plain stupid dumb. They did not put the slightest thought behind their product, neither did they think of consumer sensibilities. They were smug in their understanding that their product was going to be liked and sold. That did happen I guess at least in some cases.
There is need of user discretion at such times. If something is being sold it doesn't necessarily mean you would buy it. Similarly if something which offends your sensibilities is made, it was not deliberately made to do just that. Moreover, are the religious sentiments of the most ancient religious society so weak that they may be hurt by something as non-consequential as a door mat?
I think such a moronic happenstance is not worthy of such uproar. Giving religious overtones to poor business ideas is not a very intelligent thing to do.
Mats or no mats, this is definitely going to a fine reminder to e commerce sites to mind their wares at all times.
Follow us on Facebook, Twitter and Instagram for more updates. Don't forget to like and share. Do tell us your views in the comment box below.
7 June, 2016
Team Rapid