On Tuesday evening, three major universities' official websites were hacked by a group of people who have identified themselves as PHC. The group hacked the websites of Delhi University, Indian Institute of Technology -Delhi (IIT) and Aligarh Muslim University (AMU).
The websites were hacked and pro-Pakistani messages were splashed across the screens. Apart from Pro-Pakistani, the hackers also had some strong messages against the Indian army in the valley. They started their message with "Pakistani l33t w4s h3r3" which translates to 'Pakistani Elite Was Here', along with this, the website also read "Greetings Government of India, and the people of India", and went on to say that Indian Army is raping women in Kashmir and constantly killing innocent people in Kashmir.
All the three websites had a similar message along with two videos of the army's alleged brutalities in Kashmir. The hackers also mentioned that this hack was done in a response to the earlier hack of Pakistan Railways' official website.
The websites of most central universities are managed by the state-run National Informatics Centre and this hack has definitely affected a lot. The hackers also added that "nothing has been deleted or stolen. Just here to deliver my message to the government and people of India."
Check out the images of the hacked websites here: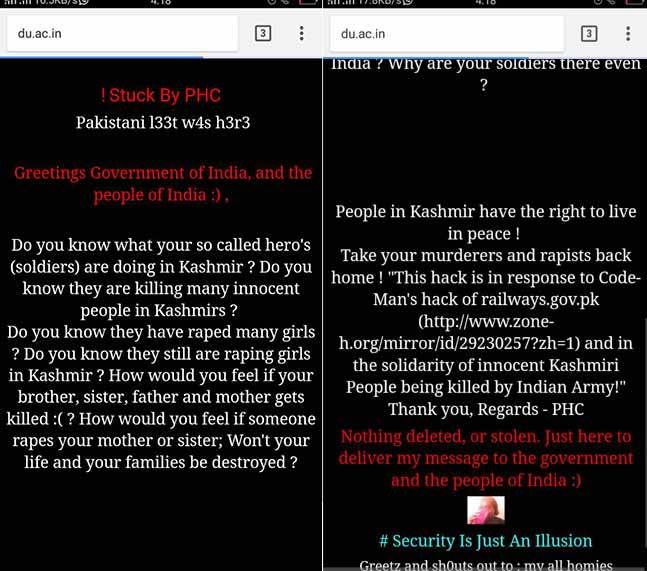 25th April 2015
Jyotsna Amla