Today a 22-year-old man died and two people got injured in a crude bomb blast outside a court in Bihar's Rohtas district Sasaram. The bomb was planned on the bike of Sachin Kumar who parked his bike outside the main gate of Sasaram court. The bomb exploded after Sachin started the engine of the bike.
The police suspected that he may have accidentally pressed the detonator as the detonator has been recovered from the spot. The investigation suggests that the bomb was planned by unidentified criminals.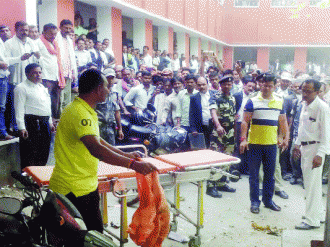 The seriously injured person was taken to the Sadar hospital for treatment but he collapsed while he was being treated. Two other persons Shivratan Bind and Shri Paswan got injured in the blast.
They both have been admitted to the hospital for treatment. The police have beefed up securities across the court as it was not the first blast here at Sasaram. In March this year, there was a bomb blast in the premises of Sasaram court.
Follow us on Facebook, Twitter and Instagram for more updates. Don't forget to like and share. Do tell us your views in the comment box below.
13 July 2016
Avni S. Singh