Karma! It's the one thing that defines us. It also defines the repercussions of our actions. It's the one thing that, according to Hindu Mythology, defines even our next birth and whatever it is that we might become in the ages that follow. One cannot hide behind one's sins or deplorable actions in the same way one cannot avoid making use of positive deeds.
Isn't it?
But then, isn't there a sense in being decent and civilised? After all, that is why one is a human at the end of the day- isn't it? But then, it can't be said with great certainty that everyone takes pride in being civilized or finds it necessary to be humane to the others.
Had this not been true, how on earth could one possibly explain the action of a Delhi-based man who happened to have all but sucked the life out of his own sister?
There are shocking incidents. There are appalling incidents. Then, there are these shockingly appalling incidents. Once you get to know this recent Delhi incident you'd know where to classify this act. In what appears to be a heart-breaking tale from Delhi, a woman has been found at the receiving end of an inexplicable act of horror.
At 50, several years from actual old age, this Delhi woman in question appears to be nearly 70 or 75.
The reason?
She wasn't looked after at all. She wasn't even fed proper food. Forget food, there were never any full meals ever. That's not all.
Here's the most upsetting thing about the incident. This Delhi woman, given the gravity of this occurrence, seems blood-boiling, was held captive for a span of two full years where she was fed a solitary piece of bread. That piece of bread was also fed once every four days.
One simply wonders, what has gone wrong to us? How on earth can we behave in such a deplorable manner as to be extending such ruthlessness to anyone for that matter?
What's specifically worrying is that in the case of this Delhi woman, the incident happened between a brother and sister duo. Not only was this woman tortured, starved, beaten and held captive for two full years, there was also no trail of evidence that her own brother left behind in his undoing of his own biological sister.
Thankfully, the Delhi Commission for Women, one of the true unsung heroes of the national capital, under the aegis of Swati Maliwal rescued the woman. What was bizarre and painful at the same time was that the woman was found lying in her own excreta, that too at the rooftop of her house. She belongs to Rohini and hadn't set a foot outside the house.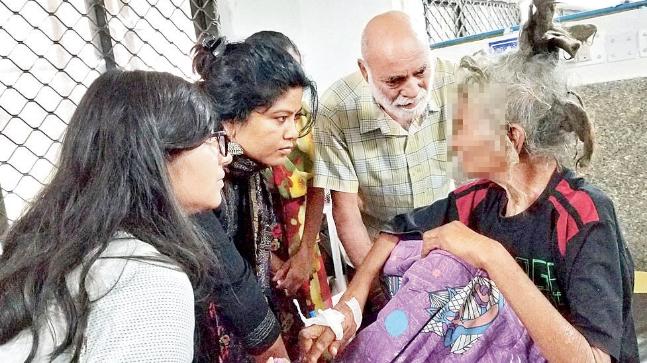 Had it not been for the timely efforts of the Delhi Commission for Women, one doesn't really know what might have become of the 50-year-old nearly lifeless person.
Unable to talk, walk, and even recognise people around her, currently the woman is undergoing all possible kinds of resuscitation under the watchful eyes of Ms Swati Maliwal.
NDTV, one of the nation's most revered national media outlets shed light on the rescue of the said citizen of Delhi. The DCW was alerted to the situation when another brother of the woman called the DCW helpline number and informed them about the woman being held captive in the house. The DCW responded by immediately sending a team to the spot. What one finds rather absurd is that the resident of the house initially refused to even open the gates to the home.
It was only then that help from Police was sought. But it remains to be seen whether such heinous acts would stop in the future, despite such wide reportage?