There's always been a saying about India and even if you are partly familiar with it, you'd know- the real life is in the villages, the big cities choke the life out of you. Well, surely where it comes to things like everyday pollution then one might say, that it's true. But now, given the way COVID 19 has attacked India's rugged albeit beautiful hinterland, it appears that the saying may not be all that accurate, at least, not anymore.
While up to this point, those in the villages of India might have been feeling secure and protected from the ghastly virus that took much of India's mega cities and flourishing urban centres in its grip, where it comes to the present moment, it appears, none are safe.
And that anything could happen!
The real sad news being that the devastating second wave of COVID 19 has begun to take grips of Indian villages, at a time where one finds the critical absence of both-
Toilets and basic facilities pertaining to human hygine
And doctors and necessary healthcare!
The absence of latter, it is feared, is going to hurt the villages of India.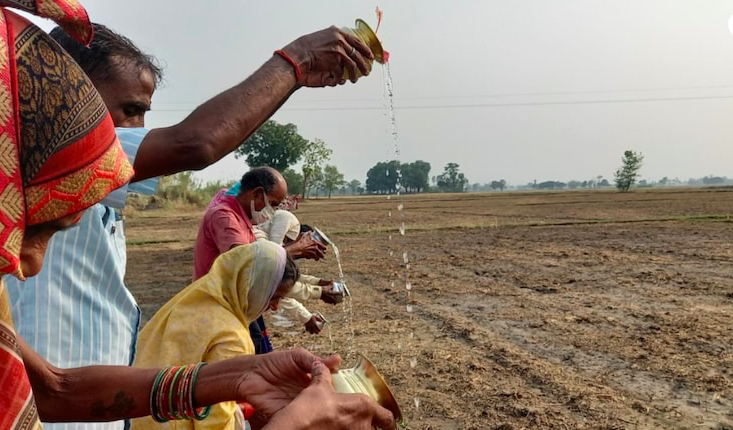 Take the month of April, where things really begun to take poor shape in the country, for instance. In the UP-bound village of Bhadras (Kanpur district), over 20 people died over a span of several days.
And while here in Indian cities, you do have a way to test so as to figure out whether one's afflicted by COVID, a journalist told in reference to the UP village that it's just not possible to know that what might have claimed those twenty lives. For no one was COVID-tested. There aren't any facilities.
Could there be anything worse other than the failure at establishing what really claimed a human life. Unaccounted deaths in India's hinterland!
But the important thing about one of the largest states in India, i.e., Uttar Pradesh is that not only is the region afflicted by barely negligible testing facilities and centres, there's a huge vacuum of doctors. Who will then save lives that are lying on the fringes?
Believe it or not, people have now turned to religious rituals as means of protecting themselves as also their families.
To delve a little more deeper into the crumbling system prevailing in UP, it is essential to read through what a recent India Today report happened to say:
Etawah district has seen a massive surge in Covid cases, many from rural areas. By the time they make it to the big hospitals, the condition of many patients is 'serious'.
In the district's biggest government hospital, BR Ambedkar Hospital, the bathrooms in the 100-bed Covid ward have been locked after sanitation workers said they would not work in Covid wards. As a result, patients and their attendants, both men and women, have no choice but to openly defecate wherever they find space outside the hospital.
Furthermore, that there are human beings openly defecating near a tap outside the hospital where patients are currently convalescing is sick and makes absolutely no sense.
Also Read: PM Modi Set To Interact With DMs Of 100 Districts With High COVID Caseload!
Inside the wards, one finds mounds of garbage. Things like social distancing seem merely lines written by a teacher in a student guide book in order to instil much-needed COVID-time decorum. It doesn't exist for real.
How is one supposed to protect himself and his family in these torrid times? Moreover, is anyone listening?