It is often said that all we have is this one life. We can do all that we wish to, achieve all we can and, strive to reach for the skies in one mortal lifetime. Isn't it? So it is only obvious that we rekindle our spirit and discover a sense of adventure. But where adventure stands, one has gotten used to seeing people undertake myriad mind-boggling challenges.
For some resorting to rigorous challenges like bungee jumping or skydiving fills the heart with a sense of doing something wild. Then there are those who endeavour to scale lofty peaks and devote a considerable number of days altogether to breathe free from mountainous peaks. We've also seen those who run for days in succession, in a bid to raise awareness for meaningful divergent issues like world peace or women's safety.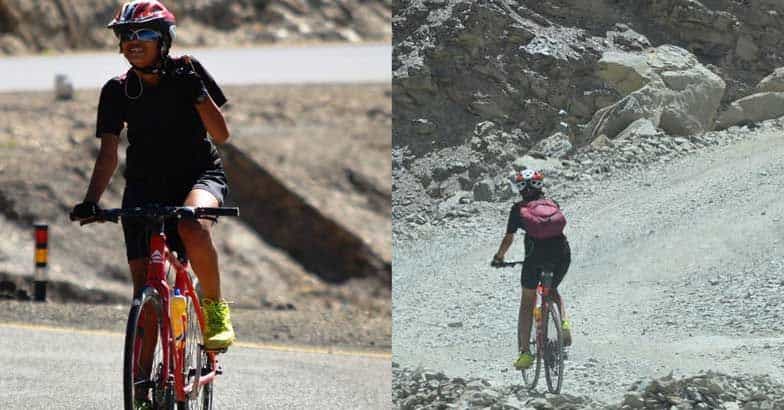 But have you ever heard of someone who wishes to cycle around the world? Could this perhaps be the most earth-shattering ordeal that one could ever undertake? While at the outset, this immediately strikes the mind as one bewildering and fairly implausible idea, to a Pune-based girl, it is nothing but a realistic ambition. Bagged with nothing but tremendous self-confidence and a zest to interact with people in different parts of the world, 19-year-old Vedangi Kulkarni has decided to cycle around the world on a solo-trip starting this year.
In an age where most contemporary youngsters might be seen preoccupied in posting social media updates or wiling away precious times in video gaming parlours or fancy, plush restaurants, this young Pune girl is driven to register her name in the prestigious Limca Book of World Records. According to her globetrotting plans, Vedangi shares that barring South America and Antarctica, she's made a wholesome plan to paddle across the entire world. While this is an onerous task in itself, the fact that the Pune-based youngster shall be all by herself all throughout the journey might make it all the more testing.
It has been revealed that Vedangi's trip shall begin from Perth in Australia, from where she'll reach for other whirl-winding destinations such as New Zealand, USA, Canada, Portugal, Spain, France, Belgium, Germany, Poland, Ukraine, Russia, Mongolia and Beijing. Thus, in covering leading world cities, the Pune youngster shall foray in possibly all directions of the planet, cycling her way as she'd overcome different terrains, multiple cultures and, diverse regions. That said, this isn't the first time that the young girl would be envisaging to cover a solo trip. Back in 2016, the teenager had completed a solo ride on the Manali-Drass route where she discovered a penchant for long distance cycling. It is needless to say that on this particular endeavour, however, Vendangi would need several times more stamina and might than she may have applied in her previous sojourn.