It's one of the principal economic centres where it comes to the beating heart of the Delhi National Capital Territory Region, also know as the Delhi NCR region. Dozens of corporate houses and multi nationals paint its domicile with productivity and economic growth each passing day, month and year. It's a doyen of employment as also a sea of new opportunities regardless of your vocation or whether you are somebody's employee or a start up entrepreneur. And where it stands at the moment, then Gurgaon is also a destination that's no stranger to new rising COVID cases.
Yes, that' right! The rise in new COVID cases in Gurgaon has made undesirable news right at the start of a fresh new week. And while experts have been of the view that the second new wave of the Coronavirus pandemic is something to be concerned about, looking at the situation given COVID cases in Gurgaon, it can't be said as to anyone is bluffing.
So what's exactly the cause of worry and what seems to be Gurgaon's predicament?
This last Sunday, i.e., April 4, the city of Gurgaon recorded a fresh spike in COVID cases. As a matter of fact, there were no fewer than 555 new COVID cases in Gurgaon, which means that not all's well with the key component of Delhi's developed and lively national capital territory. But don't be mistaken; the tally of 555 new COVID cases in Gurgaon is no random figure. With the rise in new cases, the overall tally of COVID cases in the city has reached 64,953.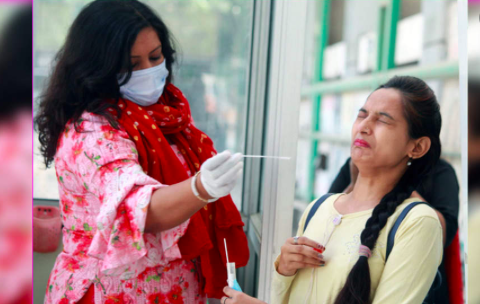 Moreover, there's also a fresh reason for concern with the burgeoning number of new cases. It appears that the tally of 555 new cases in Gurgaon is the highest since the period of November 28, 2020.
That being said, it wasn't that far in the distant past where the authorities were toying with the idea of setting up vaccination camps at the community centres in Gurgaon. For this matter, talks had already begun with local councillors in Gurugram for the purpose of setting up vaccination camps at community centres in wards.
And where the health department is concerned, it was noted that although cases were rising on the one hand, there were also recoveries on the other end of the spectrum. As on Sunday, 210 patients were discharged on Sunday itself. But then what about the overall number of recoveries from COVID cases?
As on date, 61, 614 individuals have already recovered from the COVID madness! And specifically speaking on the matters related to Sunday, no death was reported from Gurgaon. While the number of active cases on Sunday pointed to 2,972, it is reported that there already are 2,770 patients under home isolation with nearly 200 kept under observation at the dedicated healthcare centres in Gurgaon.
Also Read: No Curb In Cases In Delhi As City Records 3,500 New Cases For Second Day In A Row!
But all of that said, there's some reason to be concerned given the newfound spike in Coronavirus cases. Never a better time to maintain social distancing and follow all COVID 19 norms in this scenario. At the same time, never a better time to realise once and for all that the trouble surrounding the ghastly virus is anything but over even as plenty around the city have already got their COVID jabs.
Also Read: The Medics In Paris Fear That The Worst Is Yet To Come
As they say, always better to be safe than sorry, no?