After a gap of 8 years, rather make that a time period that's almost close to a decade, there are new buses on Delhi's roads. Here's a matter of fact. This new lease of life marks a solid development for the transport mobility infrastructure in India's capital city.
While none of the buses would be air-conditioned, it is important to note that in a bid to make these carriers of masses more safer than before, all buses would be equipped with CCTV cameras as well as rear surveillance cameras.
On August 20, 2019 CM Arvind Kejriwal and Transport Minister Kailash Gahlot flagged off the first lot of a fleet of what are believed to be 25 brand new standard floor buses. The welcome respite comes indeed after a long period of waiting borne by the common Delhiite.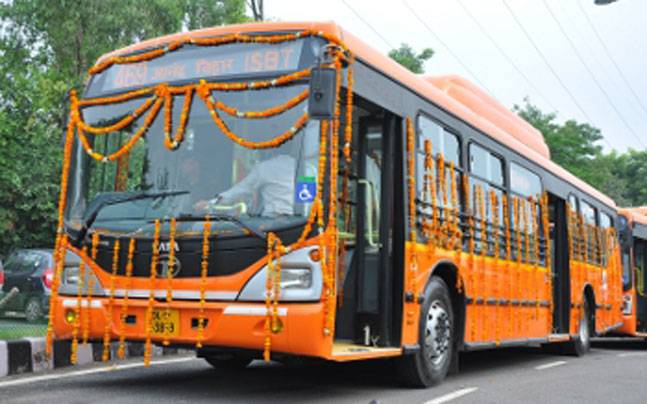 It's also worthwhile to remember that the brand new buses are basically a part of the cluster scheme of the Delhi Integrated Multi Modal System. Hence, they have been inducted as a part of the DIMTS.
In a function broadly covered by mainstream television and print media at one of the more famous addresses in the entire capital- Rajghat- the buses were flagged off by the chief minister and shortly after commenced on their maiden routes (or journeys).
All that said, the new buses include several salient features. We quote LiveMint's detailed reportage on the said subject.
Here's what you ought to know:
1. It is the first batch of 25 standard floor buses from the entire fleet of 1000 buses to be rolled under the Cluster scheme.
2. All the buses will be non-air conditioned
3. The buses will come equipped with hydraulic lifts to make travel for differently abled commuters much comfortable.
4. The new buses are also equipped with CCTV cameras and rear surveillance cameras.
5. They will also come with the latest features like GPS and panic buttons for the safety of the passengers.
But that told, one's got to ask just how many buses are there in totality on Delhi's roads?
To that end, there are as many as 5,500 public transport buses operating in the capital, of which 3,900 are being run by the famous Delhi Transport Corporation, with around 1,600 being run under the new cluster scheme in the aegis of DIMTS.
But the next year seems to offer something more exciting in the proposition of shaping urban transport. One can expect as many as 1,000 e-buses to operate on Delhi's roads by mid-2020. Apart from this, the Delhi government also plans to induct 4,000 separate buses.
But that whopping number told- one thinks- won't it be too much of congestion where the already crippled state of the traffic stands? While there's no definite answer to that, it's a matter of fact that the process of procurement of low floor buses for both DTC as well as DIMTS is already underway.
But from a fundamental standpoint to the common man, one who cannot afford to commute via private vehicles, the process of the launch of new buses is always a plus point. After all, to many households that live amid us, factors such as affordability, marked by economic travel is still a huge defining factor.