Angry cops, with a dash of style and a daze of temper. We have heard of them all along. What we have also heard about is how unpredictable and tough can cops be. But what about a slight twist to the commonly-experienced narrative?
What if some among the tough Mumbai police force were able to call out victims and slash away at crime muttering, "woof-woof!"
You read that right and sans any mistake. It appears that three new puppies- that too of the famed German Shephard breed- will be inducted into the Mumbai Police force and with rich aplomb.
These tiny, cute and furry creatures will be out there to forge their future as Mumbai's fearsome guardians, doing their bit to prevent crime and catch hold of the vicious elements in the society.
A top cop of Mumbai- Mr. Sanjay Barve- announced that the city's police force had accepted 3 new puppies offered by a local Mumbaikar for the purpose of them being inducted into the police force.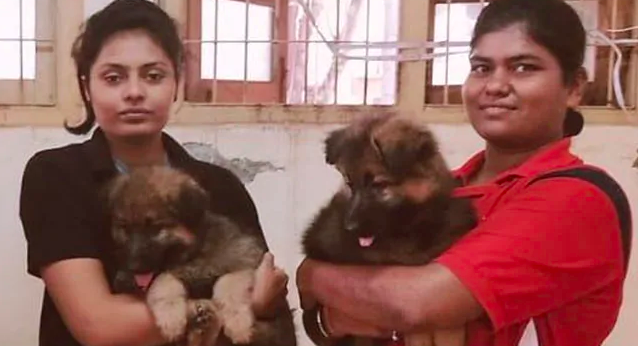 Excited by the prospect of having three distinct would-be upholders of justice and peace in the city, Mr. Sanjay Barve spoke on the matter, and shared his piece of mind on the promising development: "We promise to train these cute pups into fearsome guardians of the city."
It appears that the three cuddly German Shephard pups belong to Rakshita Mehta, a local Mumbai resident. And it must be said how proud would the offerer of these cute pets would be feeling at having contributed in a special way to the fearsome Mumbai police?
But it appears that Ms. Mehta had been asking various ways or means in which she could send her puppies to the city's police force on social media platform Twitter. A round of interaction had been taking place since July 22. Only later was the kind-hearted denizen of the 'city that never sleeps' guided to the dog squad.
In an appreciative exchange of messages on Twitter that took place between the Mumbai police force and it followers, some heartwarming messages came to light, with one user thoughtfully adding, "we all have full confidence and 100% on @MumbaiPolice they will take care and will train him nicely."
We all know that several police forces across the world deploy dogs that often become the key solvers of crime in intricate and complex situations but the induction of young pups is perhaps a new and developing trend particularly in India, where this trend could be cultivated further. After all, apart from being a man's best friend, a dog is indeed, among the sharpest creatures that there is.