Much has been said about equality among men and women in India and as the country strides towards becoming the fastest developing nation, there comes a rather great report which says that the state of Haryana, earlier known for its skewed sex ratio, has achieved the highest ever ratio of 914 girls against 1,000 boys in the year 2017.
From the 'Beti Bachao, Beti Padhao' campaign to several NGOs imparting knowledge in rural areas on the issue, all of this have finally bore fruit, at least in regards with the Sex Ratio At Birth (SRB).
For the unknown, in March 2017, Haryana had already achieved its highest ever sex ratio at birth for a month which meant that there were 950 girls being born in that period against 1000 boys and now with the average figures of the year, the state indeed has one more thing to boast about other than the infrastructural and agricultural developments in the last couple of months.
As per the data released by Haryana government, out of 5,09,290 children born in the state from January 2017 to December 2017, 2, 66,064 were boys and 2,43,226 were girls which resulted in the improved SRB, that jumped from 871 to 914 in a year, an increase of 43 points.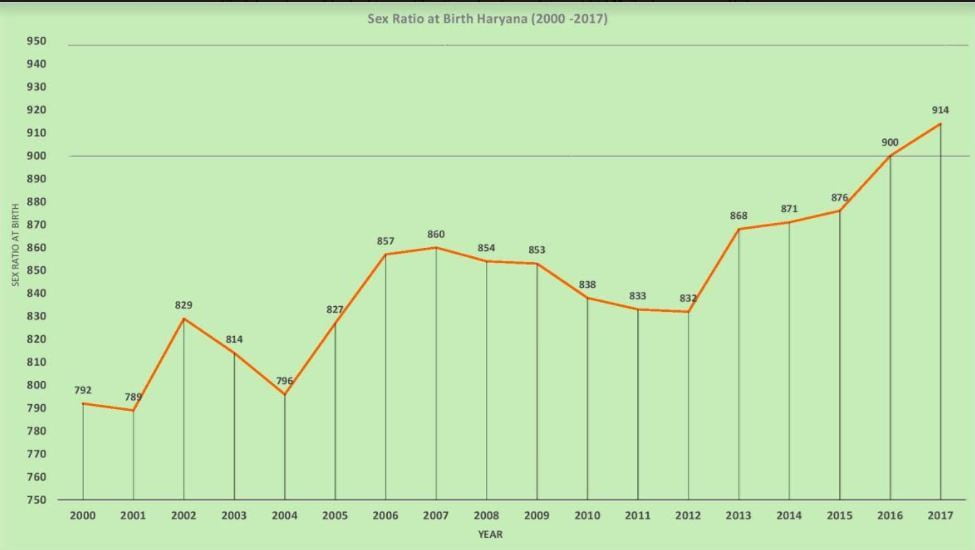 While 17 of the total 22 districts had an SRB of 900 or more, there was not even a single district which had a sex ratio at birth below 880 in 2017. While Panipat with SRB of 945 topped the list, it was followed by Yamunanagar which had 943, both close to 950 which is considered an ideal condition from the perspective of public health.
According to the data released, Mahendergarh, Rewari, Jhajjar and Sonipat districts which had child sex ratio below the 800 mark during the 2011 census, showed improvement of 136, 91, 96, 88 points respectively.
However, the achievement hasn't come easy for the state of Haryana.
Soon after Prime Minister Narendra Modi launched the 'Beti Bachao, Beti Padhao' campaign in 2015, the state launched a multi-pronged drive in order to check the skewed sex ratio where they found that apart from qualified radiologists as well as doctors, there was a nexus in Haryana comprising of quacks, untrained health workers, operation theatre assistants, and laboratory or x-ray technicians, who were either offering abortion services or were not qualified to deliver a newborn.
Around 550 FIRs were filed under the PC-PNDT/MTP Act against these offenders after successful raids in which decoy operations were deployed, including 126 cross-border raids in the adjoining five states.
Several cases of illegal use of Medical Termination of Pregnancy (MTP) kits for abortion were found to be sold without prescriptions and were rampantly used by many Bachelor of Ayurvedic Medicine and Surgery (BAMS) and other unauthorized practitioners for illegal abortions in the state.
Everything said and done, It is a matter of pride for the state of Haryana which has taken a major jump from 2011. While it had the worst gender ratio among all States, as per census 2011, at 834:1,000, a remarkable increase of 82 points in the last 5 years is worth appreciating with 9 districts showing 100 or 100+ points improvement in SRB.
With sex ratio at birth finally showing signs of improvement, will this generation boast a similar adult ratio in the future?
Share your thoughts in the comments section below.