Winter-winter everywhere, there is shiver here, now and seemingly, everywhere. Well, what else can one say? When it comes the weather in the country's national capital, then not an awful lot has changed in these last few days. Winters, seemingly pleasant to a lot many but also bitter to some, are not showing any signs of withering away, truth be told.
And it's this caustic cool bite of the wintry weather that has led to some tense nerves out there. While to a large lot of the population up north things like snuggling with a glass of hot cocoa with the heater on symbolizes happiness and comfort, where is such comfort, it must be asked, for the helpless who are braving this intensity?
Surely, while the days north of December have seen us encountering unrelenting cold wave, it doesn't seem as if things will improve in the imminent future.
Wondering how?
The new weather update, as predicted in the updates paint a not so 'bright' future; something that could lead to yet more tensity!
So now the question is- just what has been predicted and where might all of this lead the national capital and its denizens?
According to the popular website Sky Met Weather, one can actually expect an outburst of rains in the coming few days. But, wait! An outburst of rains, is it? Won't it then only add to the enormity of weather?
Here's what actually made news, according to the inputs of Sky Met Weather:
After January rains, now February is also going to start with rain. In early February, signs of widespread rainfall have started showing in all areas of North India including Delhi-NCR.
A western disturbance is coming over North India, expected by evening or night. It will have an impact on the mountains of North India and there will be rain in the mountainous region. However, it will not affect the weather in the plains states including Delhi.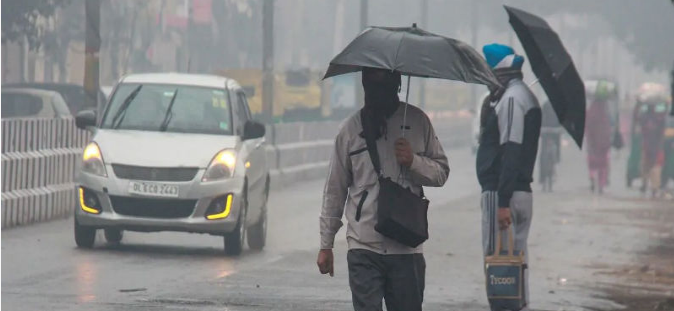 That being said, it must be added that while in the month of January itself one experienced harsh rains over a course of few days, it appears that the immediate weather forecast is also planning to go down that direction.
One wonders where will this lead the city's homeless, poor and those battling depravity?
But then it must also be said that there's a reason as to why the upcoming days will be carrying rainfall, something that's going to be challenging to put up with.
The said website mentioned that a strong trough will form the plains of North India all the way to the Arabian sea.
And that's not all; as a matter of fact, a cyclonic circulation will develop over the plains.
Also Read: Oil Ministry Not Pointing To Any Ease In Petrol, Diesel Prices Any Time Soon!
That said, one wonders, what might the combined effect of this situation lead to?
While surely, in these times of absurd weather changes, a thing like an odd shower here and there doesn't hurt maybe all that much but what if rains do happen to continue for a few days together?
Won't that be a bit too much to tackle? Summer, anyone?