Chacha Chaudhary is one of India's most popular comic characters, whom generations have grown up reading about and watching too. Advertised as the man whose brain is faster than a computer, Chacha Chaudhary has the ability to solve any crime and any problem, in no time.
But from now on, Chacha Chaudhary won't be solving crimes with his faster-than-computer brain but rather he would be speaking to the kids about the programmes of Modi government. You read it exactly like it is.
The Maharashtra Government has decided to introduce Chacha Chaudhary and Modi books as supplementary reading material for school kids. The book has come out under the Sarva Shiksha Abhiyan. Available for class V to class X students, it will be provided to the school libraries so that school-goers across the state can read it during their free time. The book is made in a pictorial form in which Chacha Chaudhary will be speaking about the programmes of the Modi government.
One can buy the Chacha Chaudhary and Modi book for Rs 35. Slamming the BJP, the NCP leader alleged that the Maharashtra government has utilised the money allocated for the SSA to buy these books.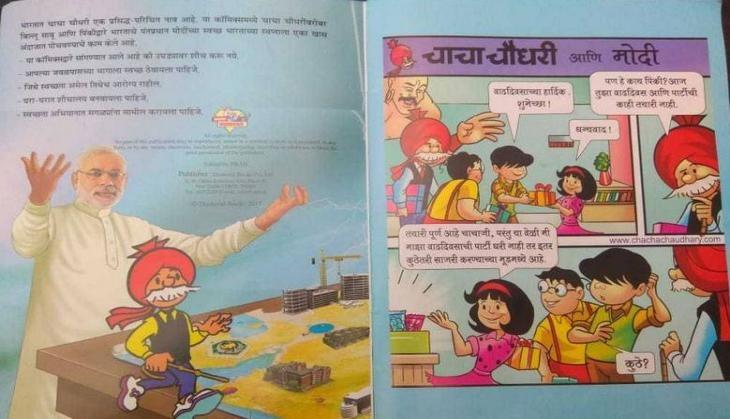 This is not the only flak BJP and Maharashtra Government has received on this news. Nationalist Congress Party (NCP) Supriya Sule came out and urged BJP to not involve education system in its campaign strategy. Talking to DNA, Sule said, "Education is a serious topic and it has been the tradition that all parties including those who have been in opposition have always taken efforts to take right decisions regarding our education system. However, this government has not even spared the education system to carry out Modi's propaganda."
She also said that education should never be altered for a particular party to fit their narrative, however, BJP has been doing this time and again which is not only bad for the students but also for the education system of the country.
What are your thoughts on the addition of this book for school kids? Is this right or wrong? Let us know in the comment section below.
Jyotsna Amla