1. Centre Calls Kannur Incident, 'Politically Motivated'.
On Monday, Union Minister Ravi Shankar Prasad blatantly reprimanded Congress Party after one of its youth-wing leaders went on to slaughter a calf in public, and termed the incident as politically motivated and provocative. While sighting the barbaric incident as shameful and unfortunate, Prasad also said that his party's motive is not to suppress the food habits of people. "I condemn the act of the Congress leader who slaughtered a calf in public view. This was a shameful and provocative act. We do not want to suppress anybody's food habit. But this was an incident intended towards political gains. This is very unfortunate," said Prasad. The Kannur police have already booked a case against the district President of Youth Congress under Section 120 (A) of the Kerala Police Act, for slaughtering a calf in public view.
2. Rajnath Singh Promises To Find A Permanent Solution For The Kashmir Issue.
Union Minister Rajnath Singh on Monday assured to find a permanent solution to the Kashmir problem. "Few elements are deluding the Kashmiri youth. I ensure that we will find a permanent solution to the Kashmir problem," Singh said at an event celebrating the three years of Prime Minister Narendra Modi-led Government. Along with this, Singh also said that India will not fall prey to Pakistan's tactics of sheltering terrorism and destabilising the nation. Rajnath also took a dig at Congress Party and said that the grand old party is in its last stage and battling hard to preserve its existence.
3. Madhya Pradesh: Two Caught With Fake Currency Worth More Than Rs 1 Lakh.
Two people with fake currency worth Rs 1,08,000 were arrested in Madhya Pradesh on Monday. The fake currency was in the denomination of the new Rs 2000 and Rs 500 notes which came into the market, post-demonetisation in November 2016. While the Indian citizens were allowed to exchange their old currency for the new one till 31st December, the NRIs were given the date of 30th June 2017 with a limit of Rs 25,000.
4. Narendra Modi Left For Six-Day Tour To Europe.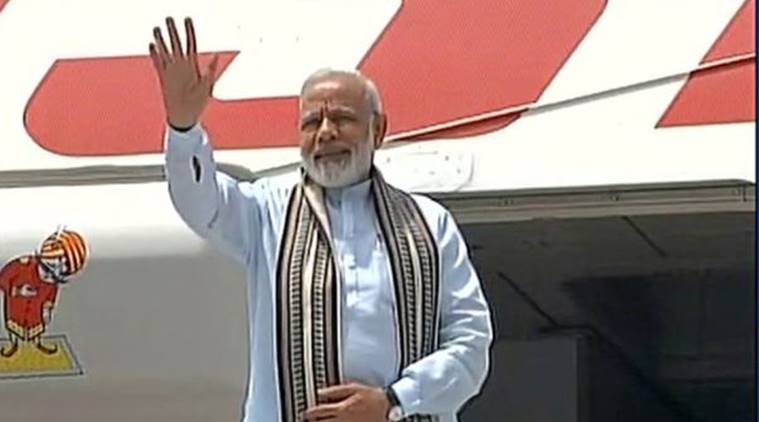 Narendra Modi, on Monday morning, left for his four-nation Europe tour which is six-day long. Over the course of these six days, Prime Minister Modi will visit Germany, Spain, Russia and France, and will begin his trip with a meeting with German Chancellor Angela Merkel. This visit is said to be Prime Minister's first engagement with the European Union whose focus is expected to be on business issues, including the long-held free trade deal between India and the European Union.