India is becoming the country of everyone dreams and it all is happening in everything. We are developing in all the fields. Now there is thrilling news for all the people who happen to enjoy a ride and the view of the sea as well. Railway ministry launched a new project which involves a crazy ride underwater. Yes! It is true. Soon you will be able to take a train ride under the sea while travelling from Mumbai to Ahmedabad. This train will be the first ever bullet train of India.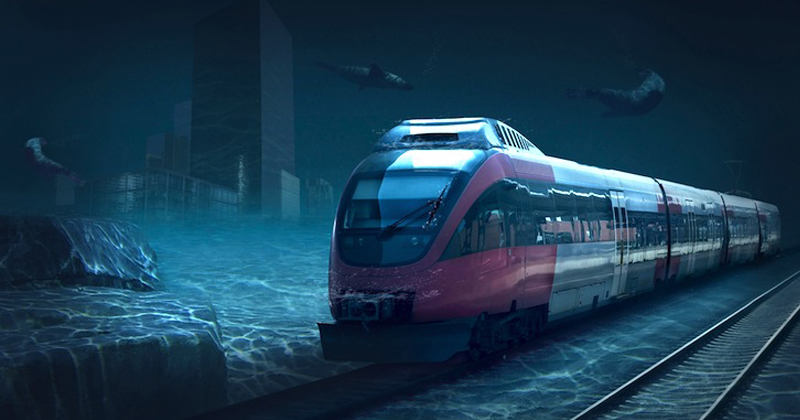 This 508 km long high speed rail corridor between Mumbai and Ahmedabad will have a 21 km long tunnel under the sea and you can only imagine the pleasure of travelling from this train.  

As per a report by JICA, the most part of the corridor will be on the elevated track and here will be a stretch after Thane creek towards Virar which will go under the sea and you will experience travelling in a bullet train that runs underwater. Supercool Right?
The project cost about Rs 97,636 crore and 81 % of the funding will come by way of a loan from Japan. It is a soft loan for about 50 years that will charge 0.1 % annual interest with 15 years' moratorium. The equipments like signaling and power system will be imported from Japan for the project.
This loan agreement will be signed with Japan by the end of this year and the construction of this project will begin by the end of 2018. This project is one of its kinds and for this Railways has formed National High-Speed Rail Corporation Limited (NHSRCL), a special purpose vehicle (SPV), with a paid-up capital of Rs 500 crore. Rs 200 crore has already been allotted to SPV.
The bullet train is expected to cover a distance of 508 km between Mumbai and Ahmedabad running at a maximum speed of 350 kmph and operating speed of 320 kmph in about two hours. Phew!! That's fast.
Well, though we will have to wait for the project to come in action but this is certainly a cheering news.
Follow us on Facebook, Twitter and Instagram for more updates. Don't forget to like and share. Do tell us your views in the comment box below.
21 April, 2016
Avni S. Singh