Bengaluru and snow have a long relationship, however, the sad story about this statement is that the relationship is not a good one, and definitely with the right kind of snow.
Bengaluru has always been popular for being the home of toxic lakes, along with the rise of corporates in here, and these lakes have time and again decided to blow out of proportion. This time, the city is coming under a chemical snowfall and as much as went to romanticise its very existence, we just can't. A pre-monsoon shower resulted in huge amount of foam that escaped the Varthur Lake and has now appeared right onto the roads. This is not the first time when the froth has tried to escape the lake for being on the streets, however, anyone and everyone is claiming it to be far worse than ever.
Apart from being an insufferable problem for people who now have to deal with long traffic, it's also turning out to be hazardous for people living around the lake.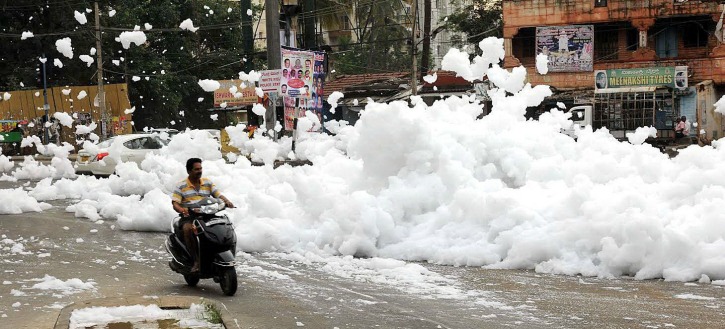 Bellandur and Varthur lakes have a not-too-long-yet-long history of being frothed up and this just shows how recklessly the entire concept is being handled. While people, who are suffering from it, are trying their best to complain about it, in the hope of saving themselves from chemicals in their bodies and lungs. A huge part of this problem is said to be the practice of dumping untreated sewage and pollutants in the lakes for the issue due to which, The National Green Tribunal has allotted the state a month to clean by the Varthur Lake. The state has, however, said the time given to them is inadequate.
#WATCH Karnataka: Varthur lake in Bengaluru spills toxic foam pic.twitter.com/WC5QcFrHq7

— ANI (@ANI) May 29, 2017
https://twitter.com/psridharp/status/868662544843456512
https://twitter.com/ElminaJose/status/868876840924057600
@bjparvind @PCMohanMP Sir ! This is a situation at WF near #VarthurLake.Kindly do something as it's a commuter' nightmare. @rk_misra pic.twitter.com/IGVrVeHfs5

— Raghunandan Ratnaparkhi (@ratnaparkhi_r) May 29, 2017

Even though we don't if or when the situation would come under control, we would just hope that somehow some decide to learn from this practice and try to control it on their part, as much as possible.
29th May 2017
Jyotsna Amla