2016 has changed the face of Indian economy with PM Narendra Modi's surprise ban on ₹500 & ₹1,000 currency notes. Though, the decision was imposed to end India's black money menace but it created chaos in the country. The long queues of people waiting outside the banks and ATMs and the availability of the cash not only driven them furious but some of them lost their precious lives.
While this was happening and social media was flooded with mixed reactions over the decision, one topic managed to give people comical aspect amidst the serious situation. A 10 Rs note circulated on social media with the words, 'Sonam Gupta Bewafa Hai', written on it.
At first, it was about trolls and memes but soon after it became a serious issue and people started criticizing such humor enthusiasts.
Here Are The Pictures Of Social Media Trolls Of The Note: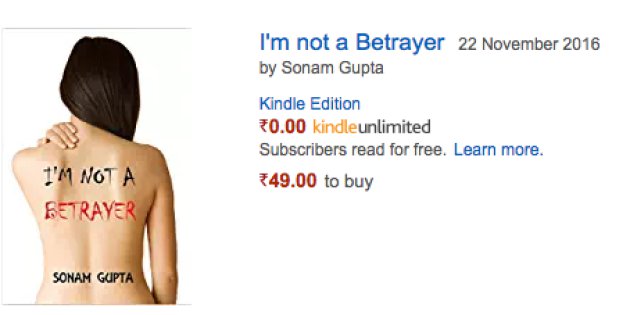 With the end of 2016, the 'Sonam Gupta Bewafa Hai' furore stepped down but recently it has been awaken again and this time for a completely different reason. A Twitter user posted a picture of a book titled, "I'm not a Betrayer", Sonam Gupta and that got our attention immediately.
Relationship Status: #BewafaaiZoned By Sonam Gupta. 😉#BlackMoney #blackMoneycleanup #ModiFightsCorruption #digitalbanking #SonamGupta pic.twitter.com/bgRibML7bp

— Sir Jadeja fan (@SirJadeja) November 13, 2016
PROUD MOMENT FOR INDIA:

Queen of England declares Sonam Gupta as "International Bewafa" ! pic.twitter.com/QWNxcyUS97

— Finger of India (@IndiaFinger) November 14, 2016
NASA releases images of shocking text on the #SuperMoon pic.twitter.com/YLirEMK2sm

— yash (@theyashbhardwaj) November 14, 2016
https://twitter.com/KajuKatli__/status/797861898150559744
Sonam Gupta says "I am not Bewafa" now available in Amazon pic.twitter.com/srfzsdZA3d

— 𝒜𝓋𝒾𝒿𝒾𝓉 (@euasiatravelor) January 2, 2017
At first, it looked like a troll but soon after we discovered that it is actually a book that is available on Amazon.
Book Description: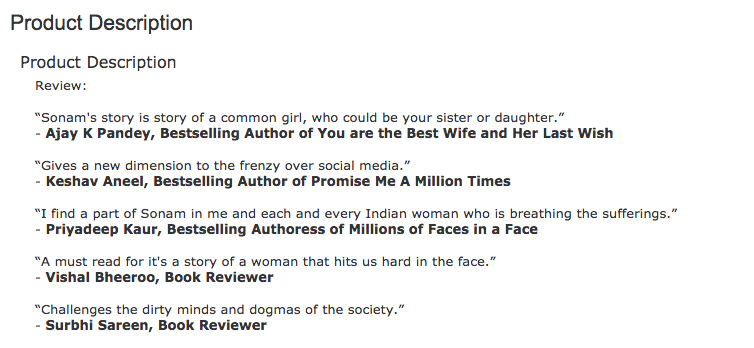 Though we haven't read the book yet but, the reviews of the book seem favorable. The reviewers on Amazon India called "I'm not a Betrayer", a must read and we are pretty convinced.
Here Are some of the reviews: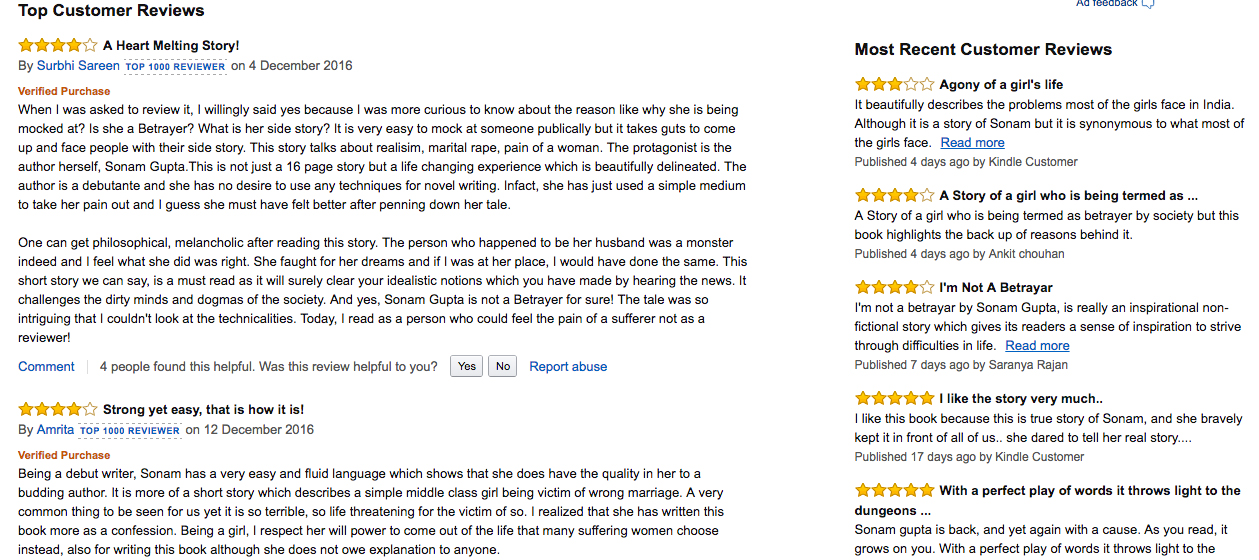 We bet you too can't hold yourself from reading this one.
( Images Source: Amazon India )
Follow us on Facebook, Twitter and Instagram for more updates. Don't forget to like and share. Do tell us your views in the comment box below.
9 Jan 2017
Avni S. Singh