The Vir Chakra comes to adorn the proud chests of those who are ever willing to put their lives on the line for the defiance of their country and its people. And amid us, in a few hours from now shall be a jubilant moment, one that shan't be forgotten in the times to come.
How ideal, it must be said, shall be that moment when the world's largest democracy, utterly sunk in patriotic fervor bestows upon a brave son a venerable medal of honor?
On 15 August 2019, Pilot Abhinandan Varthaman shall be awarded the Vir Chakra amid hundreds and thousands of Indians drenched in a unifying sense of patriotic unity.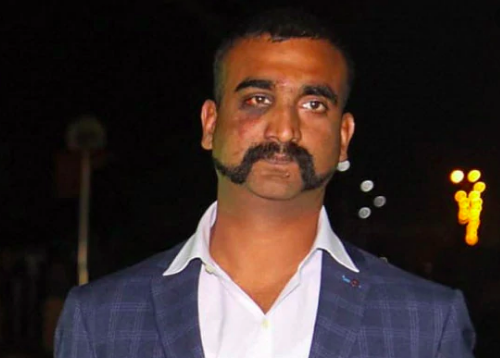 At a time where there exists boundless unease on either side, i.e., India and Pakistan following the tumultuous events of the Pulwama episode and the Balakot strikes, perhaps the biggest moment of crowning glory arrives on a really important date for the sovereign republic of India: it's independence day.
For those of us who care to revisit Abhinandan Varthaman's heroic contribution, it is worthwhile to be reminded that on February 27, Wing Commander Abhinandan Varthaman shot down a Pakistani F-16 fighter jet amid a tense dogfight near the Line of Control.
And in so doing, he emerged a national hero, a figure of reverence in India.
Throughout the period of his capture and must it be said, utterly professional conduct by the Pakistani Army, Abhinandan Varthaman remained composed and calm and didn't show any sign of panic or vulnerability. This is when he has sustained injuries to his ribs.
This is when he was subjected to several hours of boundless questioning attempting to crumble him under pressure. While the Pakistan authorities did not subject him to physical torture of any kind, he was indeed brought under a spell of mental harassment.
It could be said that perhaps the IAF pilot spent what could only be described as the most difficult 60 hours of his career during that tense moment early on in the year.
At the end of what can only be described as several tense hours for both nations, Pakistan gracefully handed over one of India's bravest sons amid an atmosphere of widespread anticipation and regaling enthusiasm. Here was a man whose brave feat upheld the spirit of nation worship for people of all walks of life.
But what underlines the bravado of the young IAF pilot is the very fact that within hours of being freed amid a time of duress, he stated his willingness to return to the cockpit and resume flying.
But for now, the 36-year-old will be clearing some medical examinations upon which he shall be ready to resume active flying duties. But not before being the proud recipient of the Vir Chakra.
Here's another fact connected with the noted pilot:
In April, amid concerns over Abhinandan's security, the Air Force posted the Wing Commander to an unspecified airbase in the western sector that also happens to be along the Pakistan border.
IAF Chief Marshal BS Dhanoa confirmed that the Wing Commander would resume his duties as soon as he was fit.