Just when I think that the world can not get bizarre than it already is, a new creepy incident comes into light and proves me wrong. Intimate moments between husband and wife are their personal matter and it should stay personal but what a man did will make your hair stand!
Apparently, capturing a video of someone during their intimate moments is a punishable crime but people still practice this crime freely. We can fight against it but if the person who is doing this horrible thing to you is your husband, your world seems to shatter in million pieces. (Believe me, it's even disgusting than it sounds).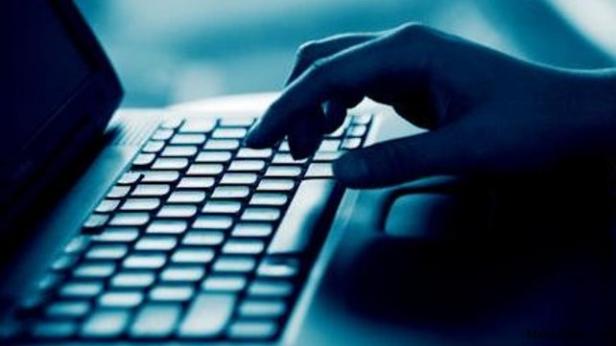 So, a man who has been identified as Akula Chaitanya, hails from Medchal district, Telangana and is a marketing executive, recorded his wife's videos, took her pictures while she was bathing, sleeping, and changing dress and shared with his friend on a video chat app. Not only that he also live streamed the sexual moments shared with his wife on Skype. ( Can You Believe This?)
The wife of the accused started suspecting her husband's odd behavior  a few days ago and in order to know what the hell is going on, she scanned her phone and found her pictures and videos with questionable content as soon as she watched them she lodged a complaint alleging that while scanning her husband's phone she found several videos of her private moments with Chaitanya and to her shock her husband has shared those with a man name Sriman. On this videos and pictures, Sriman has made some comments as well in reaction.
The Cyberabad Police, Stated In An Official Release:
"ABOUT 20 DAYS AGO, CHAITANYA MET A PERSON, SIMRAN, IN CHATROOM: https://chat.2yu.in AND THEY EXCHANGED THEIR SKYPE ACCOUNT DETAILS. ON JUNE 11, HE CREATED A SKYPE ACCOUNT USING HIS MOBILE NUMBER. CHAITANYA STARTED CHATTING WITH SRIMAN REGULARLY AND AFTER EXCHANGING THEIR PERSONAL INFORMATION, THEY BOTH CAME TO AN UNDERSTANDING TO EXCHANGE SEMINUDE/NUDE PHOTOS THROUGH SKYPE. FOR THAT, CHAITANYA STARTED CAPTURING HIS WIFE'S PHOTOS WHILE SHE WAS BATHING, SLEEPING, CHANGING DRESS OR EVEN WHEN THEY WERE HAVING SEX AND SHARED THEM OVER SKYPE."
Not Only This, In Fact, The Cyberabad Police Published An Image On Facebook Citing This Crime.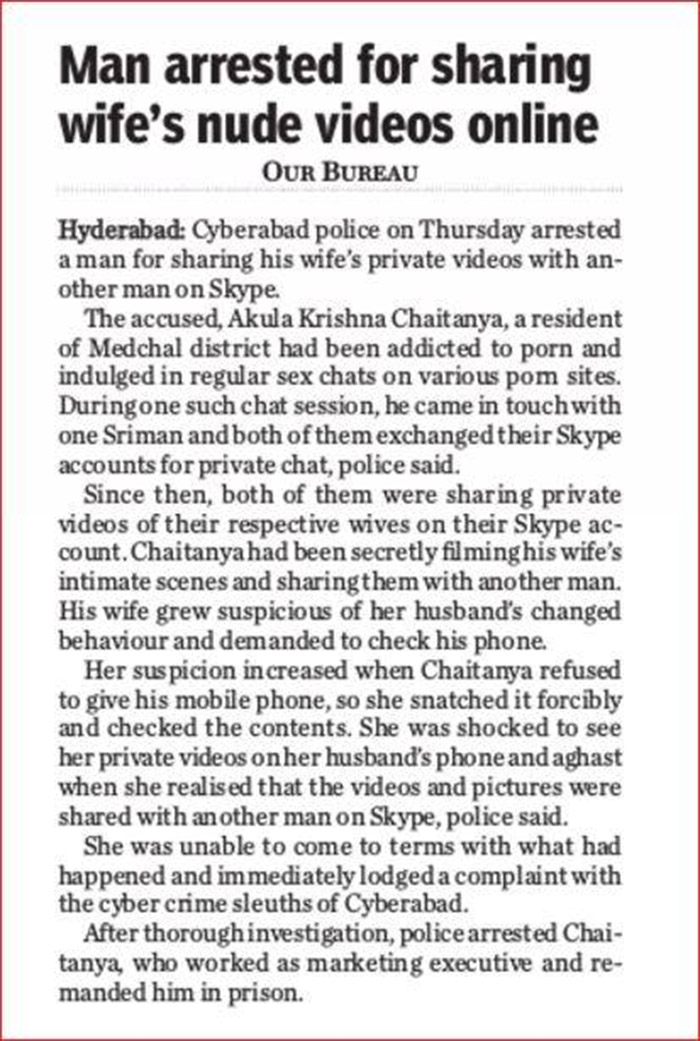 The victim and Chaitanya have been married for only 15 months and Chaitanya surely didn't clearly get the values and respect that marriage holds in our Indian society because this is not only a cyber crime or assault, this is character assassination of a person who was completely unaware of the truth that her own husband is a monster.
I just hope that if hell exists this person's not in there because people like him who are not only lunatic or maniac but are also the very existence of the word "pervert" are making people lose their faith in humans and humanity.  I don't even know who to believe or not!
It's Completely Gruesome!
23 June 2017
Avni S. Singh