When we talk about India, one thing always comes to our mind – Unity In Diversity. We have been a nation of peace and harmony where people from different religions reside with euphony, with certain contentious problems, here and there. This current phase of the country sure does seem to be surrounded with those religious tensions, because of which a news like this brings a smile on your face.
In a first, the famous Udupi Sri Krishna Temple held an Iftar for the members of the Muslim community at the Temple. This Iftar was organised on Saturday and it was a remarkable step taken by Vishwesha Tirtha Swami of Udupi's Sri Krishna Temple.
Close to some 150 people participated in this Iftar, and it's a first in history that an Iftar was organised inside the temple, which is a big thing. The members of Muslim community broke their fast at around 6:59 pm with the served fruits and cashew nuts in the dining area. Vishwesha Tirtha Swami of Paryaya Pejawar Mutt, personally distributed dates among the people present over there.
However, this is not a first for Tirtha Swami, some 30 years back, Swami Ji organised a similar kind of Hindu-Muslim gathering during Eid at the Rajangana Hall in Udupi, as The News Minute reported.
The seer urged the people of Karnataka to live in peace and harmony with each other."People from all religions must be tolerant and co-exist peacefully. Muslims have shown a lot of affection for me in Mangaluru, Kasaragod, and Bhatkal. They have given their offering during the Paryaya festival," the seer, who has been closely associated with right-wing Hindutva group, Vishwa Hindu Parishad, said. He also added, "Karnataka, especially in the coastal areas, must become an area which is peaceful and set an example for the state to be tolerant. All of us are children of the same creator."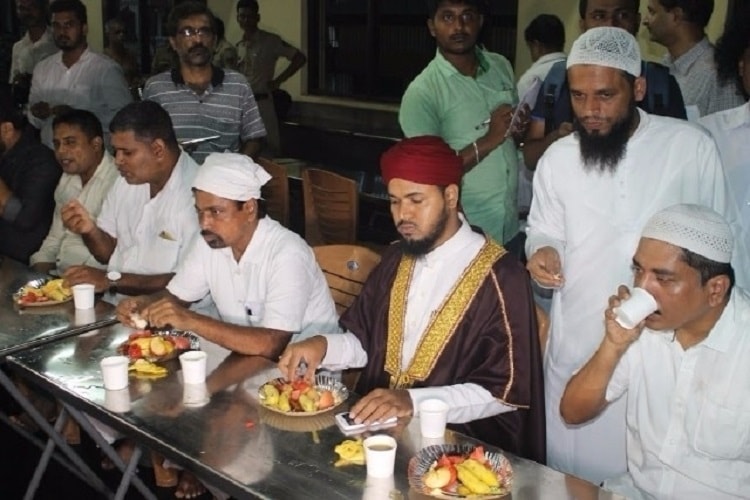 After breaking the fast, the members went on the second floor of the dining hall where they performed their namaz under the guidance of Maulana Innayatullah, Imam of Anjuman Masjid.
MA Gafoor, the Khateeb of Anjuman Masjid, who is also the chairman of the Karnataka Minorities Development Corporation, said that the message of peace and harmony, which began in Udupi, must be spread throughout the world.
This just tells us that we all have to take a step towards the love and peace that our society and world needs. Because at the end of the day we all are human beings and that is the single most important relationship we need to maintain.
26th June 2017
Jyotsna Amla