Renowned gangster Abu Salem was awarded life sentence in jail as the Terrorist and Disruptive Activity (TADA) court gave the quantum of punishment to be given to the convicts of 1993 Mumbai blasts case. While Tahir Merchant and Feroz Khan, were given sentenced to death, another convict in the case, Karimullah Khan, was awarded a life sentence in jail.
The five accused were found to have attended several meetings to plan the 1993 Mumbai blasts in Dubai and fugitive gangster Dawood Ibrahim is also said to be present at several of these meetings. The TADA court also accepted that 1993 Mumbai blasts case was in direct retaliation to the Babri Masjid demolition riots that happened place in Mumbai and many other stated in India.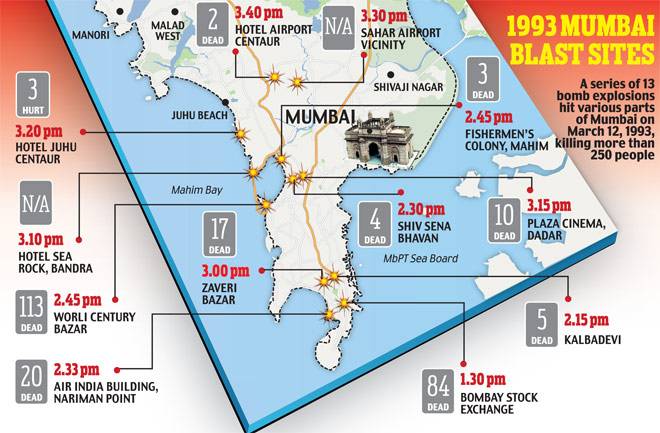 All the accused were facing multiple charges relating to criminal conspiracy, waging war against the Indian government and murder of people.
1993 Mumbai Blasts Case Verdict: 11 Things To Know About Abu Salem's Sentence
1. The Case
A series of 13 blasts took place in quick succession and ripped through various locations of Mumbai, which is India's financial capital, on March 12, 1993. The targets included Air India Headquarters, Bombay Stock Exchange (BSE), Zaveri Bazar, Sea Rock Hotel and Hotel Juhu Centaur while properties worth Rs. 27 crores were damaged.
2. Abu Salem was extradited from Portugal 12 years ago and was facing trial 1993 Mumbai blasts case in which 257 people were killed and more than 700 were left seriously injured.
3. While the Central Bureau of Investigation (CBI) asked for life imprisonment for Abu Salem, he couldn't have been given death sentence as he was extradited from Portugal and the country doesn't have a death sentence.
4. Abu Salem was a close ally to Anees Ibrahim and Mustafa Dossa and he travelled to Bharuch to get arms as well as ammunition, and brought them to Mumbai, which were stored at one of the properties of Sanjay Dutt (the actor served time in jail for possession of these arms) on Anees Ibrahim's directions.
5. Along with Abu Salem, Firoz Abdul Rashid Khan, Mustafa Dossa, Tahir Merchant (Taklya), Karimullah Khan, Riaz Siddiqui and Abdul Qayyum were the accused of 1993 Mumbai blasts case.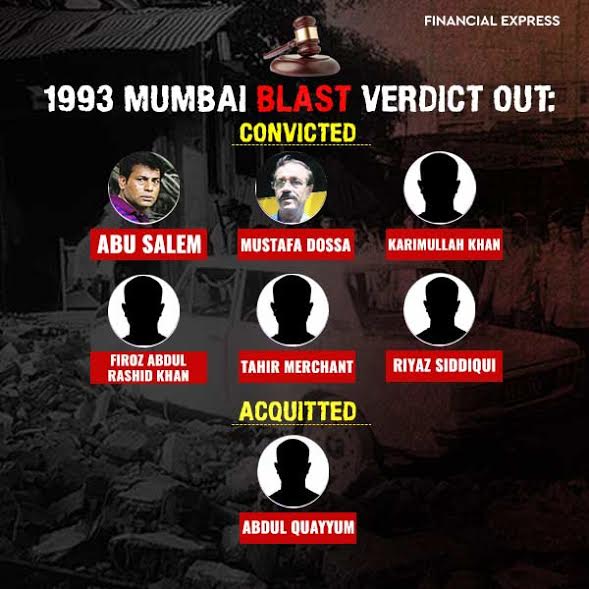 6. A special court has also slapped Rs. 2,00,000 as fine on Abu Salem and Karimullah Khan after they were held guilty of murder, supplying arms as well as other serious offenses.
7. Mustafa Dossa was extradited from the UAE, however, he died in June 2017 of a heart attack.
8. Yakub Memon was hanged in the year 2015 after a historic middle-of-the-night hearing by the Supreme Court, in which his final appeal was dismissed.
9. Abdul Qayyum was let off all charges as the prosecution failed to prove his part in the conspiracy of 1993 Mumbai blasts case.
10. The court recorded statements of around 800 witnesses while three, including Abu Salem, confessed to their crimes during investigations by the CBI over the years.
11. The 1993 Mumbai blasts case also revealed the attack was coordinated by Dawood Ibrahim and Tiger Memon, both of whom are on a run and have not been tried since.
Notably, all the accused of the 1993 Mumbai blasts case were found to be not guilty of waging war against The Government Of India due to lack of evidence.